If you think your customer service needs a fix, you aren't alone. Bad customer experience could potentially disrupt businesses, a fact reinforced by a recent survey by NewVoiceMedia. The figures, in fact, are alarming. In the US alone, businesses lost a staggering $75 billion because their customers abandoned them owing to lackluster service experience. A closer look pointed to a trend of mounting losses year on year owing to customer disaffection.
The reasons are not far to seek:
most customers hate long wait times when trying to reach customer support; almost two-thirds wait two minutes or less and 13% prefer "no wait time"
savvy customers find traditional touch-tone and dialog-based IVR systems with complicated and long-winded menus obsolete; they want to speak to the real person to get their issues resolved
as a consequence, more calls are being routed to live agents leading to higher contact center costs – despite being deployed for the exact opposite (IBM's research shows US contact centers receive 270 billion calls of which 50% go unresolved)
even when they get to speak to agents, it's frustrating being passed around to multiple people
most often, the agents lack the context of the callers such as the exact issue, customer details and knowledge from external sources (according to SQM, a U.S. customer survey research, 20 to 30 percent of a call center's call volumes are call backs from previous, unresolved issues)
crucial data is spread across disparate systems and a singular unified view is lacking to provide tailored help
a single bad experience can have a viral impact in the age of social media, reaching thousands, or even millions, of current and potential customers lending individual voices and experiences the power to influence others
In short, customer service is crying out for major transformation. Today's customers want a proactive solution – one that solves all complex problems, on a multitude of platforms, extremely quickly and builds long-term trust affinity between brands and them.
Source: State of Contact Centers 2018,Regalix
Cognitive technology and artificial intelligence (AI) are proving to be helpful in meet the pressing challenges of customer service when premised on a sound strategy.
Organizations can automate the bulk of their customer service by leveraging voice enabled, natural language powered conversational chatbots, which integrate with IVR systems.
According to Gartner, by 2020, 85% customer interactions will be handled without a human agent.  AI, Chatbots & automated self-service technologies will free up call center employees from routine tier-1 requests for complex value-added tasks.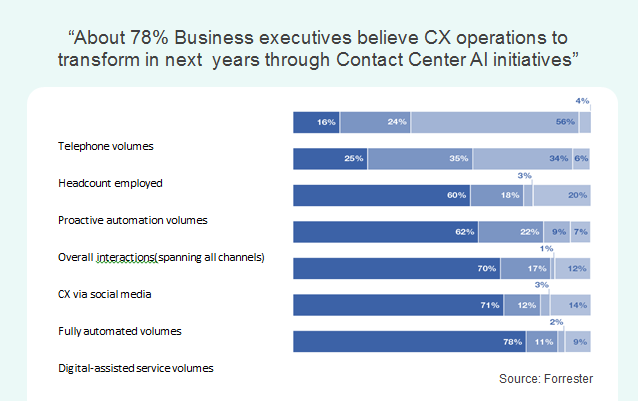 While such technologies are efficient and powerful, there are three elements should inform your approach for developing a personalized and proactive customer service strategy:
Leverage automation without compromising customer experience. While bots are good at solving many customer-related issues faster than humans, there are situations – especially those unforeseen, complex issues – where they falter, regardless of how smart or well-trained they may be.
 In general, you need a combination of both human and AI to deliver outstanding customer service. Most simple questions can be answered by chatbots, while open-ended tasks are still better handled by humans. Chatbots cannot answer all questions as yet, hence ensure that customer service representatives take over the conversation without loss of context when AI reaches its limits.
In such cases, escalating conversations in a manner that is quick, seamless, and non-intrusive is critical for reducing response times and for building the kind of great experiences that customers tell each other about.
For example, the Kore.ai Bots Platform provides seamless integration points with agent software to enable the conversation to be transferred to a human agent. Learn why human connection is important and how we accomplish it here.
Leverage the combination of conversational AI and analytics effectively. Conversational AI is not just about automation. It's about empowering customers and agents with right kind of information and support based on the customer context using pattern recognition technologies such as AI and natural language processing (NLP).
 Bots help in understanding customer's intent by mapping relevant topics to the conversation and get the answers customers want and need, faster. You also get better and faster insights into your customer data through bots that monitor caller behavior and provide powerful analytics for business analysts and managers.
This improves the effectiveness of every call to deliver high value and relevant information to the agent.
In addition, bots can extract underlying data from back-end systems to create scripts that guide the agent towards the next-best-action, reducing the need for agents to put customers on hold to seek help from managers or training coaches.
Innovate new ways of serving your customers through personalization. At a time when customer service is going through major disruptions, bots can help you personalize agent conversations, including relevant upsells, by identifying key personas, recall customer details, and present machine-learning driven insights. By embracing new ways of doing business will pave the way for your long-term success.
The future belongs to organizations that channel their strategies to effectively club automation and AI-based to deliver customer service in the age of digital.
About the Author
Sairam Vedam is Chief Marketing Officer at Kore.ai. He drives Global Marketing, Strategic Positioning, Analyst Relations and Developer Marketing efforts. He is a speaker, blogger and teaches at some of the leading B-schools of India.