In this Financialcentre.com review, the brokerage firm "The Financial Centre" is the focus. This article attempts to offer a detailed description of the firm's services.
The Financial Centre is a global brokerage firm that offers a trading environment to traders and investors worldwide. It provides a diverse range of trading instruments, including CFDs on FX, Indices, Stocks, Crypto, and Commodities, to both retail and institutional clients.
With a team of experienced experts and cutting-edge technology, the brokerage offers traders essential tools for trading. A user-friendly trading platform and competitive spreads enable traders to execute their strategies efficiently.
Education and analysis are important parts of The Financial Centre's offerings. Clients have full access to educational and analytical tools, which can help them learn from seasoned analysts, improve their trading approaches, and develop their skills.
The firm's services cover a wide range, including Blockchain Technology, different Account Types, Debit Card services, Crypto Wallets, responsive Customer Support, and more.
Financialcentre.com Review – Blockchain Banking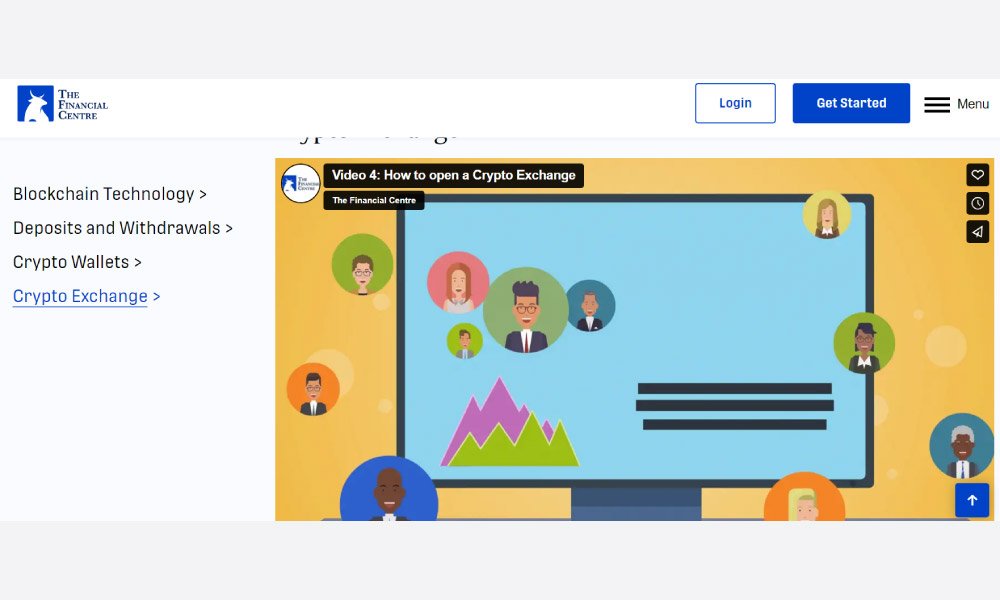 This Financialcentre.com review describes the firm's Blockchain Banking service. This service uses blockchain technology to facilitate financial transactions. It is a distributed ledger technology to record transactions securely and transparently.
The adoption of Blockchain Banking represents a significant shift for The Financial Centre as it moves from a traditional investment firm to a technologically advanced entity. This move allows customers to experience a more streamlined approach to financial transactions.
Key features of The Financial Centre's Blockchain Banking service include
Blockchain Technology: The firm leverages blockchain technology to ensure secure and transparent financial transactions, introducing a new level of solidity.
Deposits and Withdrawals: With the integration of blockchain, deposits and withdrawals become swifter and more convenient compared to traditional banking methods, catering to the fast-paced nature of modern finance.
Crypto Wallets: Clients gain access to crypto wallets, enabling them to manage their digital assets seamlessly within the firm's ecosystem.
Crypto Exchange: The service includes a crypto exchange platform, allowing customers to engage in digital asset trading with ease and confidence.
Account Types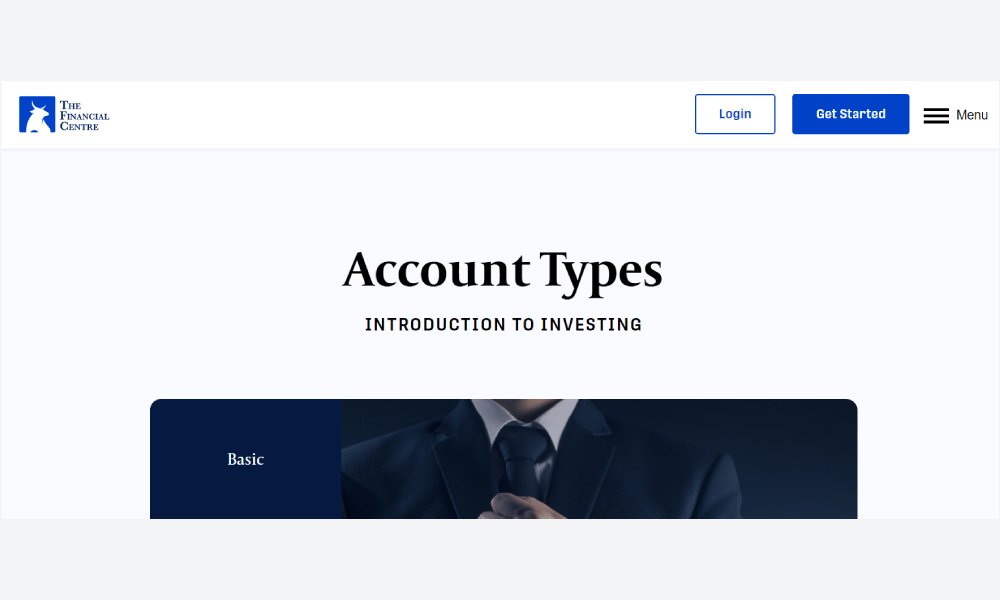 In this Financialcentre.com review, a notable feature offered by The Financial Centre is its range of "Account Types." The broker offers many account types to cater to traders with different preferences and experience levels. These account types offer different features and benefits, such as different trading conditions, levels of leverage, and deposit requirements:
Basic Account: With a minimum balance of $250, this account type offers spreads starting from 3.0 pips, providing a suitable entry point for novice traders. Flexible leverage of up to 1:30 ensures measured risk management.
Silver Account: Requiring a minimum balance of $10,000, the Silver Account presents tighter spreads from 2.4 pips. The flexibility of leverage up to 1:30 maintains a balance between risk and opportunity.
Gold Account: Aimed at more experienced traders, the Gold Account demands a minimum balance of $50,000. It features tighter spreads starting from 1.9 pips and offers a higher leverage of up to 1:400.
Platinum Account: Targeting seasoned traders, the Platinum Account mandates a minimum balance of $100,000. It boasts ultra-tight spreads from 1.2 pips, coupled with powerful leverage of up to 1:400.
VIP Account: Tailored for elite traders, the VIP Account requires a minimum balance of $250,000 or more. It provides the tightest spreads from 0.6 pips, along with a robust leverage of up to 1:400.
Debit Card
This part of the Financialcentre.com review sheds light on a convenient feature offered by the company- the "Debit Card." This service allows users to convert their crypto earnings into dollars, which can then be used to make purchases.
The following are important facets of The Financial Centre's debit card service
Instant Conversion: Users can swiftly convert their cryptocurrency earnings into dollars and load them onto a debit card. This conversion process facilitates immediate access to funds for everyday spending.
Easy Ordering Process: Ordering a debit card is a straightforward process. Users can visit the Debit Card page on the platform and initiate the order. The card is then dispatched and delivered to the user's address within a few days, ensuring prompt access to the card.
Minimum Requirement: To be eligible for ordering a debit card, users are required to have a Silver Account. This minimum account requirement ensures that users have engaged with the platform and its features to a certain extent before accessing the debit card service.
Education Center
In this Financialcentre.com review, this section highlights an invaluable service offered by The Financial Centre: the "Education Center." The brokerage offers an Education Center that provides traders with resources to enhance their knowledge and skills. The Education Center is a comprehensive resource that caters to individuals at varying levels of experience.
The Education Centre at The Financial Centre's main features are as follows
Website Overview: Traders can access a detailed overview of the firm's website, aiding them in navigating its features and functionalities effectively.
Trading for Beginners: Novice traders are provided with video tutorials covering basics of trading. These tutorials offer insights into fundamental concepts, helping beginners establish a strong foundation.
Advanced Traders: Those with a deeper understanding of trading can benefit from advanced tutorial content. This section delves into more intricate trading strategies, risk management techniques, and market analysis methods.
Professional Traders: Even experienced professionals can find value in the Education Center. The platform offers tutorials that explore sophisticated trading approaches, market trends, and advanced trading tools.
VIP Program
This part of the Financialcentre.com review describes a notable feature provided by The Financial Centre: the exclusive "VIP Program." This program offers tailored VIP accounts to elite traders.
Key aspects of The Financial Centre's VIP Program include
Tailor-Made VIP Accounts: The VIP Program provides access to VIP accounts that are customized for elite traders. These accounts offer a personalized trading experience and additional features.
Dedicated VIP Executives: The firm's team of VIP executives assists traders in setting up their VIP services and achieving their trading objectives. This personalized support ensures that VIP traders receive the attention they need.
The VIP Program is divided into distinct tiers based on capital and wealth levels
Capital Management: This tier encompasses accounts with a capital range of $250,000 to $500,000, offering advanced benefits to traders within this bracket.
Wealth Management: For traders with capital ranging from $500,000 to $1,000,000, the Wealth Management tier provides further specialized services and advantages.
Millionaire's Club: Reserved for those with a capital of $1,000,000 or more, the Millionaire's Club is an invitation-only tier that grants access to the highest level of VIP services and exclusive benefits.
Payment Methods
The Financial Centre offers a range of convenient payment methods to facilitate deposits. Accepted options include credit cards (Mastercard, Visa), E-Wallets (APM, EFT), and Wire transfers.
The following are key elements concerning The Financial Centre's Payment Methods
Credit Cards: Traders can use Mastercard or Visa credit cards to make deposits. The maximum deposit amount differs according to the specific credit card and its terms.
E-Wallets: Electronic wallets, including APM (Alternative Payment Methods) and EFT (Electronic Funds Transfer), provide a swift and secure way to fund accounts. The maximum deposit amount for E-Wallets depends on the chosen method.
Wire Transfer: For those seeking to deposit larger sums, Wire Transfer is an option with unlimited maximum deposit amounts.
Minimum Deposit: The minimum deposit amount across all payment methods is set at 250 USD / GBP / EUR.
Referral Program
This review of Financialcentre.com highlights an advantageous feature known as the "Referral Program," offered by The Financial Centre. This program empowers clients to earn rewards by referring friends and acquaintances to the platform.
Key points about The Financial Centre's Referral Program include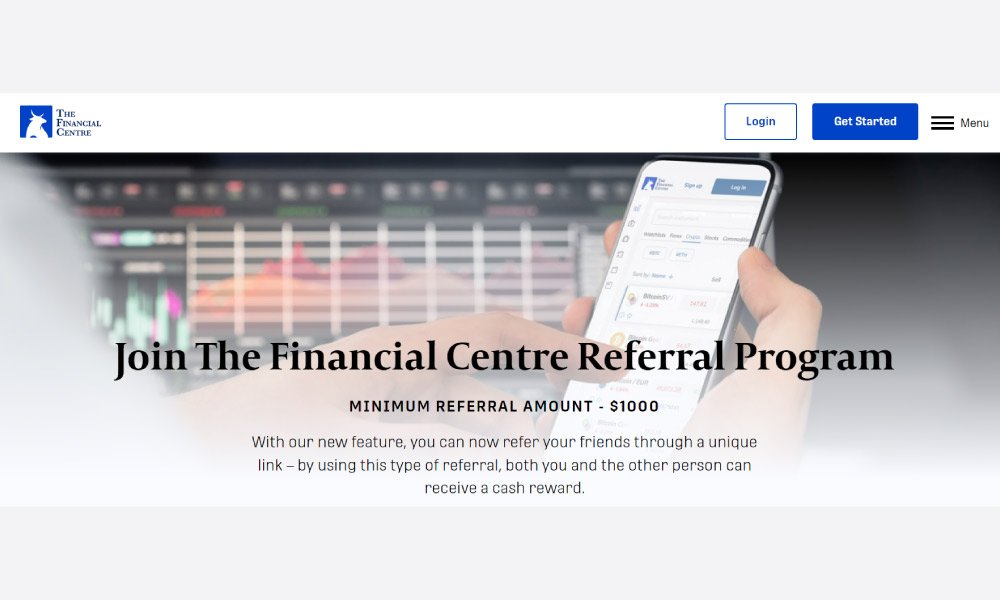 Earning from Referrals: As a client of The Financial Centre, individuals can benefit from a referral system that grants them 10% of each cash deposit made by their referred friends. This amount is automatically credited to the client's account upon their friend's deposit.
Maximum Earnings: Clients have the potential to earn up to $25,000 in total earnings per friend they refer, providing a significant opportunity for additional income.
Rewards for Referred Friends: The Referral Program isn't just advantageous for the referrer; the referred friend also benefits. Friends who join the platform using the referral link will receive 5% off all deposits made to their own accounts.
Financialcentre.com Review: Limitations
The firm does have a few limitations worth noting:
No Chat Room: The absence of a chat room on the platform could limit real-time communication and interaction among traders.
Limited Dialect Options: The site is available exclusively in English, potentially restricting accessibility for users who prefer other languages.
Financialcentre.com Review: Conclusion
In conclusion, this comprehensive review of Financialcentre.com has provided a detailed overview of the firm's offerings. The Financial Centre presents a diverse range of services tailored to traders and investors globally. From its innovative Blockchain Banking and VIP Program to its education centre and various account types, the firm strives to cater to a wide spectrum of trading preferences and experience levels.
While the inclusion of video tutorials and the referral program adds value to the user experience, it's important to consider the limitations, such as the absence of a chat room and limited language options. By recognizing both the strengths and limitations, individuals can make informed decisions regarding their engagement with The Financial Centre.
Disclaimer: This manuscript does not serve as a recommendation or endorsement. The author disclaims responsibility for any resulting outcomes of the company's actions during your trading involvement. The accuracy and recency of the data furnished in this treatise may be dubious. All trading and financial resolutions are solely your prerogative, devoid of any reliance on the information offered herein. This website repudiates any commitments concerning the accuracy of its content and shall not be held responsible for any trading or investment losses incurred.
Also Read: Equithy.com Review Unleashing the Future of Online Trading