Did you know that one of the most popularly searched topics on Google is "Facts about Nike?"
Does 'Let's Do it' ring any bell? In case you are a sneakerhead, it will. Back in the 1990s, the concept of sports shoes was not as conventional as they are today. They were cumbersome and hulky (metaphorically heavy as Hulk) and often caused bleeding to athletes. In 1964, two people came forward to change the 'sports shoes' perception, and thus, Blue Ribbon Sports (BRS) was born. After a vision (apparently a dream), BRS became Nike that continues being atop the shelf of every sneakerhead. We guess you were not completely aware of that.
Today, Nike is one of the brand ambassadors of sports shoes and sneakers. However, this insanely famous American MNC had quite a gnarled inception.
Below are 50 interesting facts about Nike that will 'swoosh' you off the ground:
1. From footwear to apparel, Nike occupies over two-thirds of the US Footwear Market (62% of the world athletic market).
2. The company was recognized as 'Blue Ribbons' long before it was recognized as Nike.
3. Nike is the brainchild of University of Oregon's Track Athlete Phillip Knight and coach Bill Bowerman who founded it on January 25, 1964.
4. Nike initially operated as a distributor for the Japanese shoemaker Onitsuka Tiger and officially became Nike Inc. in 1971.
5. Nike was born out of the idea of a college paper. Phil Knight first thought about starting a sneaker company while writing a college paper.
6. 'Nike' was not the first choice of the founders Phil Knight and Bill Bowerman. The name was almost finalized as 'Dimension 6'.
7. Jeff Johnson pitched the concept and name 'Nike', which was inspired by the Greek goddess of Victory.
8. How YOU pronounce the brand name is of utmost importance! Nike is pronounced as ny-kee. It does not rhyme similar to bike or like.
9. The famous 'Just Do It' slogan holds a sinister backstory and is inspired by Utah criminal Gary Gilmore during the 1970s. Gary was sentenced to execution after committing a double murder. During his final moments, he said, "Let's do it."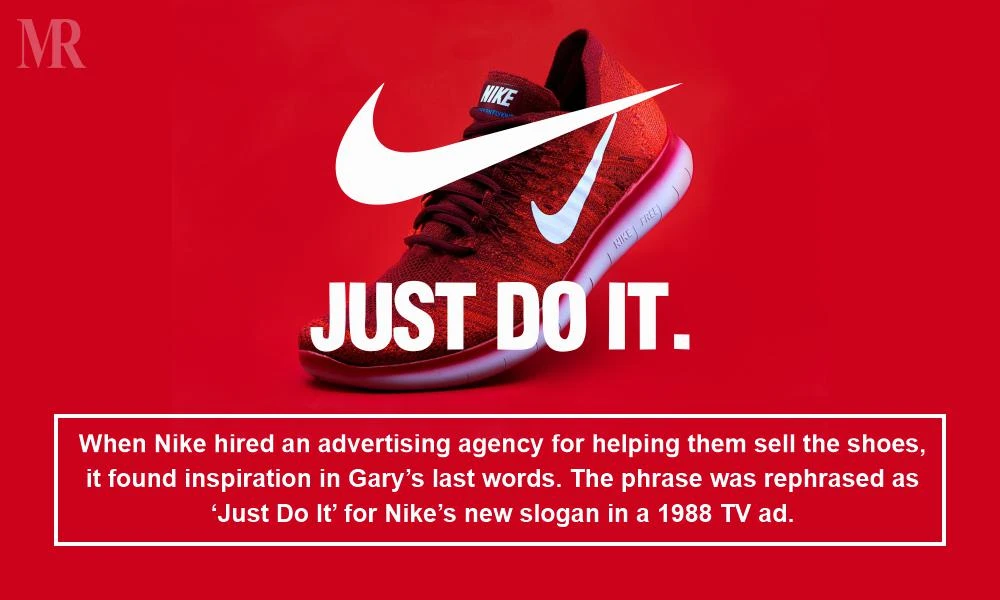 10. When Nike hired an advertising agency for helping them sell the shoes, it found inspiration in Gary's last words. The phrase was rephrased as 'Just Do It' for Nike's new slogan in a 1988 TV ad.
11. The legendary 'swoosh' was crafted by Portland State University student Carolyn Davidson for $35!
12. Davidson agreed for working on some possible designs when Knight felt that 'Blue Ribbon' needed a stronger brand identity. While Knight "didn't love it," the company eventually settled on the logo.
13. She actually drew the Swoosh from Adidas Logo while designing Nike's logo.
14. Davidson transformed the angles of the Adidas logo into a bolder, thicker and continuous insignia to honour the spirit to continue against insurmountable obstacles.
15. Later, Nike's co-founder gifted the Swoosh logo inscribed in a golden frame to Davidson as a token of gratitude.
16. In 1987, Nike used 'Revolution' for one of its Air Max sneaker ads. Beatles sued them for $15 million saying that they don't "peddle sneakers or pantyhose." After certain negotiations, Nike protested and continued to air the commercial and let the campaign fade out in 1988. (Did you know this rare fact about Nike?)
17. Knight encouraged employee shouting matches and seemed to enjoy when staff would argue over sports. By 1995, when they began quitting older attitudes, Knight said the company was not as fun as it used to be.
18. Long before Nike became an athlete's favorite, tennis player IIlie Nastase was the first professional athlete to endorse Nike after signing a contract in 1972.
19. Michael Jordan did not want to meet with Nike. After declining his agent's request to meet with the company, his parents talked him into following his agent's advice. He flew to Nike's headquarters and finalized a deal in 1984.
20. Although Jordan popularized the Air Jordan 1, he hated the colors red and black when he first saw the shoes.
21. Shaquille Rashaun O'Neal went to meet Nike owners dressed in Reebok apparel from tip-to-toe because he knew he didn't want to sign into any contracts with Nike.
22. Nike once sponsored skateboarder and TV star Bam Margera, to wear their shoes. However, Margera didn't actually like wearing their products, so sneakily wore other branded shoes while plastering the Nike logo over the top.
23. Nike's Reuse-a-Shoe program takes the raw materials from sneakers for creating playground surfaces, track flooring, and gym floor tiles.
24. Nike's Reuse-a-Shoe program collects Nike shoes from consumers and transforms them into a new material called Nike Grind.
25. Nike holds a patent for a shoe that has a communication device embedded in it. It is one of the first sportswear and apparel companies on the planet to embrace smart clothing.
26. Nike has won 2 Emmy awards for its commercials 'The Morning After' in the year 2000, and 'Move' in 2002.
27. Nike holds a strong partnership with the University of Oregon, under which it still designs and manufactures the apparel and sportswear worn by the college football team.
28. Nike has donated millions of dollars over the years to help renovate and maintain track and field facilities at the University of Oregon.
29. In a second, Nike sells an average of 25 pairs of sneakers—that equates to $1000 per second, 66.000 a minute, and a Grand 700.000.000 per week!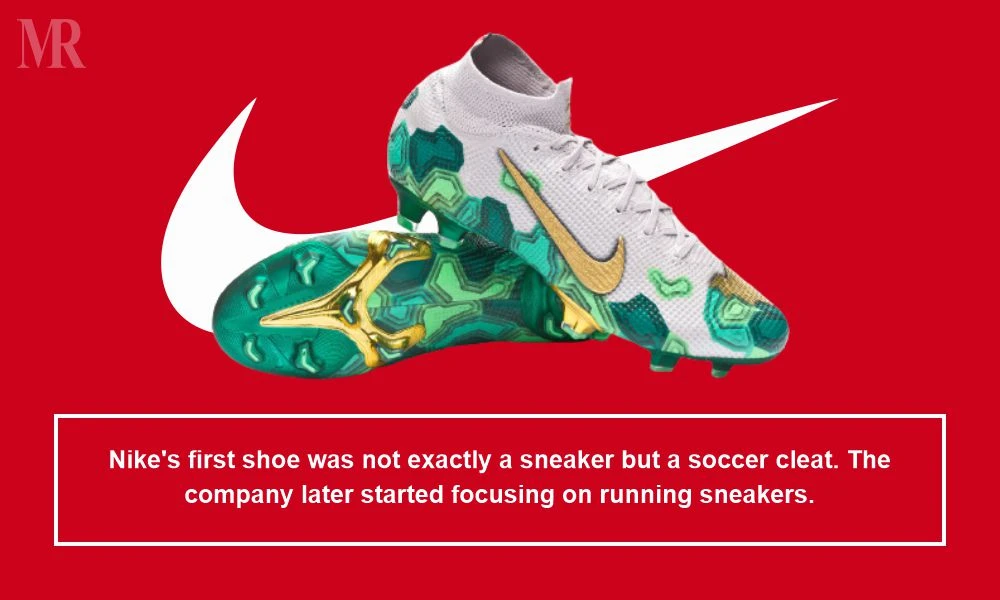 30. Nike's first shoe was not exactly a sneaker but a soccer cleat. The company later started focusing on running sneakers.
31. The very first pair of Nike shoes were made using a waffle iron that created grooves on the soles. The design helped athletes to grip the surface of running tracks while wearing them.
32. One morning in 1971, Bill Bowerman was making waffles with his wife when he got the idea for an athletic shoe sole with square grids for better traction.
33. The Nike Waffle Trainer was patented and rolled out for sales by 1974.d and rolled out for sales.
34. In April 2021, a pair of 'Satan Shoes'—acclaimed produced, and customized by Nike—took the internet by storm as the sole contained a drop of human blood along with red ink.
35. As per social media users, Nike created the horrendous 'Satan Shoes' in collaboration with the famous rapper Lil Naas X. The launch was produced by MSCHF Product Studiop Inc.
36. Nike denied the claim saying it is not connected to the project. Moreover, it sued the company that created the customized shoes on their release day.
37. Nike further claimed that MSCHF infringed on and diluted its trademark with the black-and-red, devil-themed shoes.
38. Tinker Hatfield (also Nike's shoe designer) designed Batman's boots and boarding boots in Michael J. Fox's movie 'Back to the future part 2'.
39. Although Nastase was the first officially recognized spokesperson of Nike, the company's heart still belongs to Steve Prefontaine. Steve was a running legend at the University of Oregon before his tragic demise in a car accident in 1975.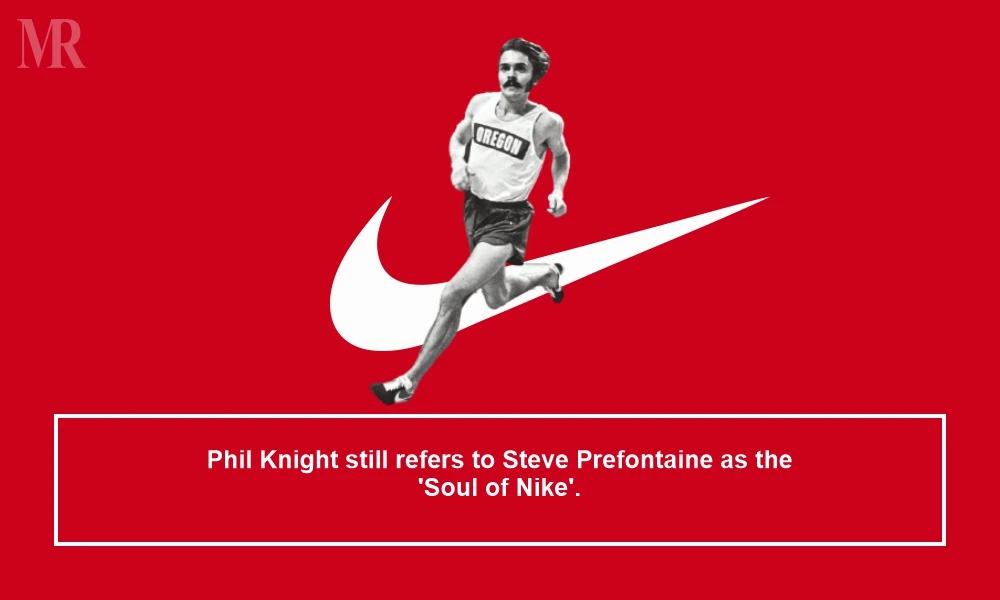 40. Phil Knight still refers to Steve Prefontaine as the 'Soul of Nike'.
41. There was an entire line of clothing dedicated to Prefontaine by Nike.
42. In 1990, almost 80,000 pairs of Nike shoes Air Solo Flights, Pegasus, and Strike Forces were lost at a sea. To this day, some of these shoes have also been spotted in the ocean.
43. When the popular shoe company Converse went bankrupt in 2001, Nike purchased the company and the iconic line in 2003.
44. In 1980, Nike aired a commercial featuring a Kenyan tribesman who was supposedly saying 'Just Do It' in his native tongue.
45. However, an American anthropologist later claimed that the tribesman was in fact saying "I don't want these, give me bigger shoes."
46. Since 2012, Nike has been the official sportswear and apparel supplier for the NFL and for the NBA since 2015.
47. Nike is mostly popular for its diverse approach and vision. One of its famous mottos – and all-around ethos – is 'if you have a body, you're an athlete'.
48. Nike has its own travelling brand ambassadors. These ambassadors are addressed by their individual specific titles.
49. One of the ambassadors or salesperson is known as an Ekin (Nike spelt backwards).
50. Interestingly, Nike does not actually own the factories where its products are manufactured. Instead, these factories are owned by contractors and Nike pays them to produce the goods.
We are guessing that the about facts about Nike have definitely swooshed your feet off the ground. There are numerous such unknown facts about Nike that will make you scratch your head in astonishment. We hope our list of '50 facts about Nike' helped you learn more about the brand and enlighten your sneakerhead version!
Also Read: Most popular Jordans of all time