The women entrepreneurs of the modern era are taking the business world by storm. Right from stepping on the moon to building and leading their successful business empires, women have literally left no stones unturned. Gone are the days when women flattered to take bold and decisive steps to establish their venture, dreading their personal ability to balance family and career as well as anxiety over the lack of financial resources and commanding aura. Today through innovative ideas, intellectual vision and killer attitude, the leaders in heels are under global limelight.
Koheli Puri is one such woman of power, class and influence. Koheli is the Founder & Managing Director of STUDIO XP Management Consultants Pvt. Ltd. She has over 18 years of experience in commercial real estate and project management sector. Koheli started her professional journey by working at a renowned corporate firm where she cultivated the extensive knowledge along with functional and operational know-how of the real estate industry. After completing her tenure, she joined a development firm which was people oriented. With refined knowledge and management skills under her wings, Koheli wanted to initiate her own venture by striking a right balance between the people and processes, as they are the two strongest tools to independently  function as a real estate consultancy firm.
STUDIO XP was incepted in 2011, with a mission to create performance driven environment for all stakeholders and teams in order to develop an enhanced work culture and deliver increased value added services to the end users. From her previous experience, Koheli knew that meeting client expectations and commitments is always a challenging issue in the real estate sector. Therefore, she wanted to form an unstoppable team, who would assist her in creating a niche for STUDIO XP in the industry, in terms of innovation and successful project delivery. Commenting on the working scenario, Koheli says, "STUDIO XP works on a focused business model, its specialized design & management services towards innovative & timeless designs & on time project delivery within the cost and quality parameters makes STUDIO XP a unique, credible, ethical, accountable and unbiased service provider."
However, starting a new venture is a five finger exercise. Right from building the skilled team, to having the right clients and the appropriate funds, Koheli went through a roller coaster ride. Blessed with a calm demeanor and steadfast determination, she continued to work with her old team, managed to win clients' trust and set up her business in the due course.
StudioXP is a real estate consultancy firm, with multi-disciplinary specialists having experience in architecture & interior designs, project/construction management and designing & building services for corporate offices, commercial projects, international schools, hotels & hospitality, and industries & retails. StudioXP is currently providing its services to several National & Multinational corporate clients, developers and IPC's in Delhi NCR, Mumbai, Pune & Bangalore regions. Koheli firmly believes in values of delivery as per commitment and satisfying clients with  innovative design, better quality products, building clients' trust, offering more for less and elevating user satisfaction.
Extraordinary Range of Services by StudioXP
At Studio XP, Koheli and her entire team are the hardest taskmasters. They combine their exceptionally talented people with the supremely dedicated workforce, using the rarest of materials to create perfection. The team regards outstanding quality as the defining principle to create a performance driven environment for all stakeholders/teams for the better quality products with improved trust. Following mentioned are its key services.
Design Consultancy: Interior design including space planning, interior layout, look and feel, technical specifications, bill of quantities & standard project designers scope of services as per industry norms.
Project Management: Project management services are undertaken in various stages of the project to achieve the final goal of the project, that is, delivery of the project within budget, quality and stipulated time line which is the prime objective of project management.
Design & Build: The team's effort is to provide one stop solution to its clients through design, project management and execution encompassed services, since inception till completion of the project and seamless transition to the end users.
Cost Audit Consultancy: It includes complete bill certifications, audits of checked bills, measurement verifications on site through drawings for hidden works, rate analysis & audit of extra item approvals and provide the final cost control report to clients.
Quantity Surveying: Cost planning and commercial management through the entire life cycle of the project from inception to post-completion, including procurement advice, tender analysis, contract administration, cost management, payment certifications and variation process management till commercial closure of the project.
Graphic Design: This includes corporate branding and trendy design ideas for visual communication of the mission, vision, ideologies and principles of the companies, and motivating people around.
Competitive Edge of StudioXP over its Competitors
Accountability, commitment, quality and on time delivery.
Maximum repeat business and referral business.
Personal involvement of leadership team, in close monitoring of the project for successful and timely delivery.
Hands on approach as the directors of the company are interior designers and project management professionals respectively, with an experience of over 18+ years.
The entire team of StudioXP shares similar values, respect towards each other and deliver outstanding results for the company.
Big Bright Future of StudioXP
Koheli visualizes the future of StudioXP as:
To become the most receptive organization for clients in terms of level headed interactions.
Provide best in class design, construction management and build services.
Expansion in Tier I & Tier II cities of India, thereby serving Pan India with locally based independent teams for providing value added services.
Donning Multiple Hats
Being the Founder and Managing Director of the company, Koheli looks after the business expansion, which is the most important part of the company's growth. This not only includes serving more clients, but also getting repeated business which actually speaks about the company's performance and commitment. Koheli also ensures that final commitment made to clients are met as per agreed guidelines.
Managing a Dream Team
Remarking on her amazing team, the proud founder asserts, "My team is my family. I consider their personal as well as professional issues as my own. I give my full attention to their professional and Personal issues and ensure that it is resolved so that it does not affect the team's performance. I feel it's my duty to provide my team with a hassle free, healthy environment to boost their professional career."
Striking a Balance between Personal and Professional Life
Koheli feels fortunate to have a great team at work and a supporting family at home. She credits both her team and family for assisting her to create an equal balance at both the ends. Koheli is able to devote time to her family members as well as remain focused on the professional end.
Standing Tall in the 21st Century
During the initial phase of her career, Koheli admits that she had come across few incidences where she faced the gender bias. Confident about her knowledge and skills, she refused to fall prey to those petty issues. She knew from deep within that women are more sincere, responsible and make multi-dynamic employees. As of today in the corporate world, the gender bias is diminished and performance based assessment is done. Moreover, the attitude of the men in the society has changed drastically in accordance with the western world. The modern men are also ready to work hand in hand with their spouse at both home and workplace, thereby striking a successful balance between professional as well as personal life.
Interesting Facts About Koheli Puri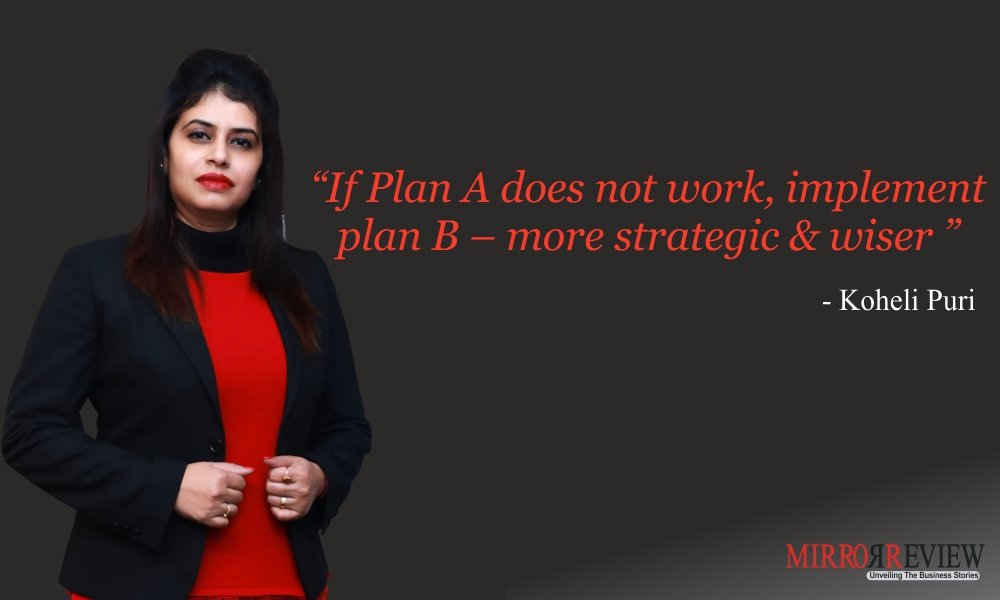 Role model in the real estate industry: Mr. K P Sing (Chairmand and CEO of DLF Ltd.) – the growth and development of DLF is so inspiring for each and every professional like us. The Face of India has been changed by DLF.
Personal success mantra/quote: "If Plan A does not work, implement plan B – more strategic & wiser "