At present, education can be broadly categorized into two scenarios; traditional education and e-learning. In traditional education, learning is more focused on one to one interaction and class training education; it includes practical hands on learning or group based learning. There are scenarios that suit e-Learning, where learning can be self-paced and done remotely. There are also practical areas where both can be intermixed providing a best of breed approach. The e-Learning scenario changes depending on the type of organization and the challenges they are trying to solve. Some organizations are specifically focused on ensuring successful onboarding of staff, while others layer in compliance and regulation training. Others are looking to promote program, procedure or product knowledge to various groups.
Since 2000, Interactyx has contributed significantly to the e-learning space. The company was one of the first to put textbooks combined with simulation models and assignments online for Economics students. In addition, with the release of TOPYX, it became one of the first social LMSs allowing organizations to create communities and connect learners to other learners, instructors and managers all in single platform. TOPYX is built by learners for learners focusing on providing engaging and interactive experiences to learners, businesses, associations, and nonprofits irrespective of size and location.
TOPYX: Blended e-Learning Program
Interactyx focuses on gather, interact, and learn which supports the overall process of gathering content, allowing groups and individuals to interact with the content and each other to facilitate an ongoing learning experience regardless of how the learners receive the content in traditional or e-learning settings. Interactyx provides TOPYX in 4 different versions each for a flat fee allowing organizations of any size to take advantage of e-learning no matter how many learners they have.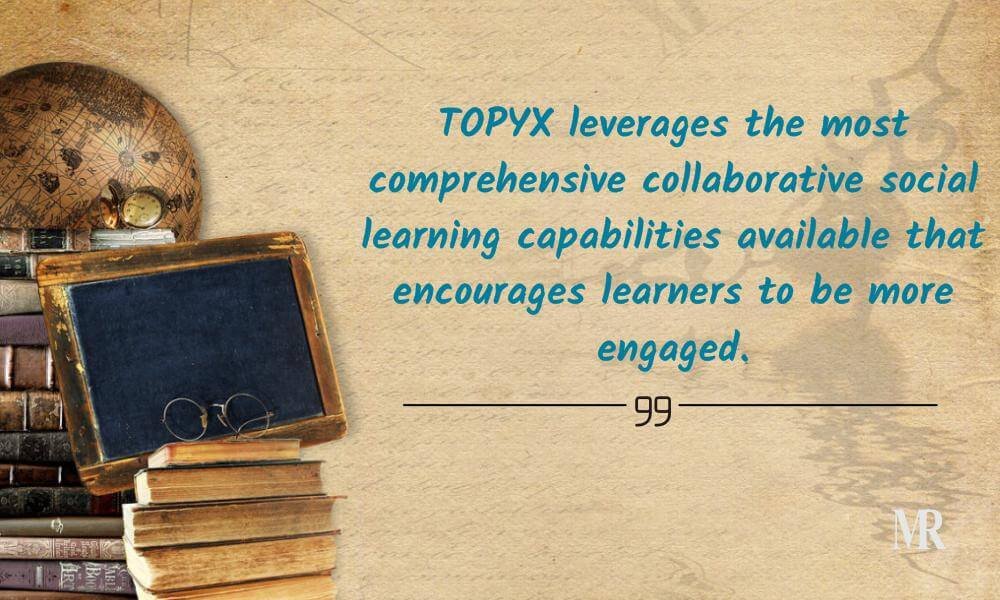 TOPYX is highly configurable so that it can be fine-tuned to meet both simple and complex learning requirements. It can also be integrated easily into other business systems and workflow, making it simple for learners to find, use and engage with content and others. The best feature of TOPYX is that it supports a blended learning environment which enables both self-paced learning, and online collaborative learning. Moreover, it also supports in class or session-based learning with the ability to capture external learning activities. In addition, it also offers various pre-built content, e-commerce options, fully branded experiences, admin services and more—all delivered from the cloud with no software to install.
An Education Enthusiast Enhancing Learning Experience
Simon Cooper, Chief Executive Officer of Interactyx, has a strong background in product, pricing and go-to-market strategy for growing technology companies. He holds a bachelor of science honors degree from Sheffield Hallam University in Software Engineering. Highlighting his interest in the software industry, Simon says, "You can take an idea, write some code and then interact with what you've built. Playing around with early computers certainly influenced me to pursue a career in the software industry." As an education enthusiast, he loves to work in the learning and education industry. Learning in general is important for everyone and it's a continual experience day after day. e-Learning is an important conduit to facilitate the ongoing learning and education which benefits every learner in some way from engaging with learning content. This helps people to grow, improve and learn new skills.
Utilizing Quality Resources
As a software vendor, Interactyx is happy to help clients with any need; clients should take every advantage to connect with peers and employ best practices, new knowledge or discuss ideas. There are 'n' numbers of ways to use e-learning, so collaborating on different approaches is helpful to find the optimal solution. The valuable content created by an organization should be looked upon as a reusable asset that can be deployed organization wide. Furthermore using e-learning technology across other parts of an organization furthers learning reach. In today's market, there are lot of talented designers and instructors who are looking for the opportunity to assist organizations in developing the best material and content. These designers are coming with fresh ideas which could be applied to the environment to improve learning engagement or knowledge sharing and retention. Interactyx believes in utilizing these resources to support its clients in every possible way.
Challenging the Challenges
There are many e-Learning platforms in the market. There is also a lot of diversity in the challenges competitors are solving for organizations. Interactyx uses solid product and business strategy to stay ahead in the market. To maintain its lead amongst the other competitors, it balances the current industry trends with competitor innovation, customer's vision against internal innovation, roadmap, and technical debt. While working with other organizations, Interactyx ensures that it has a perfect go-to-market strategy, which is relevant and on point. At times, organizations are not certain what they want from the market and to avoid such confusion, Interactyx uses analytical approach to identifying where to begin and where to place the priorities.
Upcoming Innovative Projects
Maintaining its quality of service, Interactyx focuses on ensuring that the platform is keeping pace with newer learning content that supports VR and AR. It modernizes the learner experience which makes the platform more learner/consumer focused and creates more engaging experiences. It is also working on creating a more personalized experience by identifying with the learner, their goals, interests, and needs, connecting them to additional content, opportunities, recommendations and learner community involvement.