Thanks to the miracle of the internet and tech advancements, new doors have opened for accessing knowledge, high-quality education, and training. Nowadays, eLearning landscape is gaining immense popularity among students and learners due to its wide set of benefits all over the world. Presently, there are a number of eLearning solutions providers that are offering diverse courses through their respective flagship platforms. Founded in 2012, one such interactive eLearning platform, Triple Tech LLC dba Bigger Brains is on a mission to create more productive workplaces through exceptional eLearning offerings.
Remarkably, the major driver behind the company's success and reputation is its CEO, Chip Reaves. Chip has 20+ years of experience and is highly skilled in computer service, franchise management, and online training programs. While commenting on the eLearning scenario, from a leader's and entrepreneur's perspective, Chips says that eLearning and traditional education will continue to work side-by-side. Furthermore, when it comes to eLearning, the online platform is more convenient and cost-effective for covering diverse topics but few things are best taught in a live, teacher-lead scenario.
A Serial Entrepreneur Helping Companies in Their eLearning Efforts
Going down the memory lane, Chip met with a game-changing incident that motivated him to establish Bigger Brains. It all began when the seasoned leader co-founded Computer Troubleshooters, a worldwide IT franchise system. While working there, he was allotted the task of creating an online training platform for the company. For the first time, Chip learned the value and significance of eLearning while building his online training portal which is now used by over 400 locations around the world. By shifting training to the online portal, he saved considerable amount of time and travel expenses by delivering it to large number of people. "After selling Computer Troubleshooters, I wanted to help other companies with their own eLearning efforts by providing a high-quality set of commonly needed training courses which they could instantly deliver to their people," says Chip. This is how Chip was inspired to establish Bigger Brains. Currently, the company continues to create the "Absolute Best Online Training" from its studios at Anderson, South Carolina.
Making Courses Fun, Interactive, and Easy To Understand
Bigger Brains is an off-the-shelf eLearning content provider with a "Uniquely Engaging"™ Teacher/Learner format. This format consists of video-based modules filmed in a studio with multiple cameras and two people on screen that are: "Teacher" and "Learner". Because of this, the skilled team of Bigger Brains can deliver natural dialogue, clarification, interrogation, and humour that doesn't exist in traditional lecture-based modules. The company's training content is excellent for companies of any size, but particularly beneficial for training departments.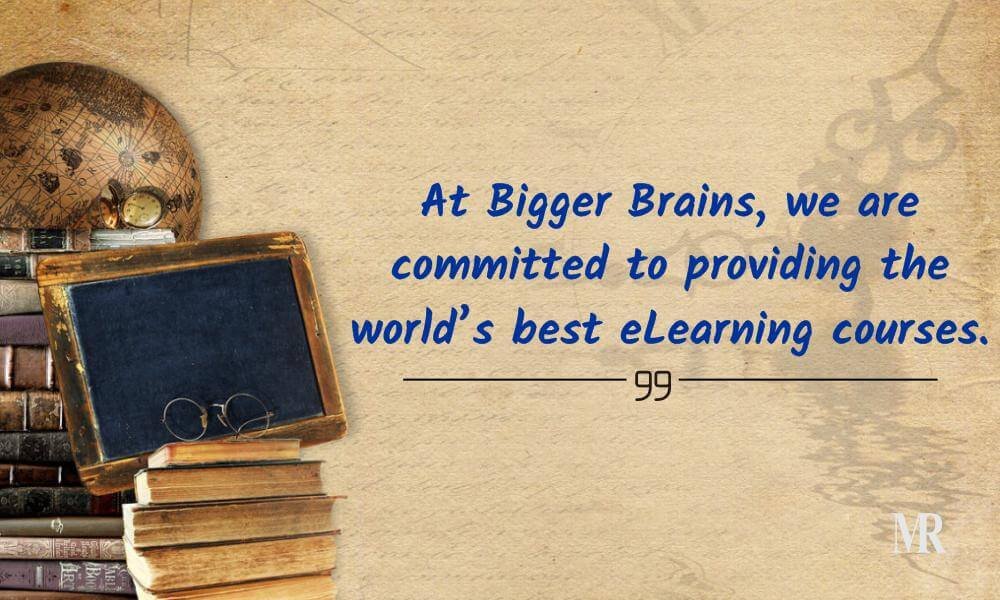 Additionally, by using Bigger Brains' courses, companies can concentrate their inner training on the subjects distinctive to their organizations. To create the most realistic and comprehensive training courses possible, the most interactive eLearning solution provider works with top teachers and subject matter experts. These experts have real-world experience of working in particular areas along with teaching experience in colleges and corporate environments.
Offering Different eLearning Courses Globally
As a leading eLearning solution provider, Bigger Brains offers a library of off-the-shelf eLearning courses focused on topics related to Microsoft Office 365, Microsoft Teams, Email Management, Cybersecurity, general business productivity, and many more. These courses are taught by hired industry experts. Along with this, the "Bigger Brains style" videos are designed to be both enjoyable to watch as well as effective than the run-of-the-mill lecture-style videos that are often found online. Additionally, the company has developed and designed a new eLearning app to help people retain the knowledge and skills they learn via Bigger Brains and other courses. BrainBot, an intelligent AI-based chatbot communicates with users to provide post-training reinforcement boosters or "nudge learning', which can help improve knowledge retention by a factor of 10x.
Working Together to Create the Finest eLearning App and Courses
Currently, Chip is focusing on BrainBot's global expansion. After the enhancements, companies and teachers can use it to support their personal training. Furthermore, the versatile leader and his professional team are adding more features in the current courses with interactive transcripts, gamified knowledge checks, and localized translations. In the future, people from all walks of life will be able to access as well as use Bigger Brain's unique eLearning courses and app.
Staying Ahead by Making Training Interactive, Engaging and Effective
Today, there are numerous eLearning solutions available in the market for individuals to choose from. Therefore, comprehending the market competition, Bigger Brains' CEO and his skilled team devotes time and energy into continuous innovation and quality improvement of their offerings. Each year, they work on a key project that is designed to enhance how they create, produce, and deliver training, thereby making it more interactive, engaging, and effective. For the past few years, they have evolved according to their surrounding landscape to create and enhance the company's unique training platform. In 2017, the highly experienced team at Bigger Brains hosted an event to help focus group of millennials to better understand what eLearning features worked best for them. Likewise, in 2018, they developed their BrainBot workflow learning app. This year, the expert team has recruited industry professionals to evaluate and refine their course production process. As a result, they are able to improve the focus and knowledge-transfer of their eLearning courses by achieving these milestones year after year.
Things to consider while choosing the Right eLearning Courses
Being the CEO of a prominent eLearning solution provider, Chip feels that customers should be aware of their investments in eLearning. He believes that creating or buying eLearning courses is very easy, but they may become boring or ineffective for their teams. All it takes is one or two bad experiences that can push them away from using eLearning at all. He further adds, "By focusing on the quality of your eLearning content, including things like pacing, lesson objectives, course outcomes, and key point outlines, you can build training that your people will enjoy and benefit from."