Sports biomechanics plays a vital role in minimizing the risk of injury and improve sports performance. It is the area of science concerned with the analysis of mechanics of human movements. Sports biomechanics has long been used to unlock the smallest improvements in athletes' movements and form to enhance their performance.
However, the maximum potential of this practice is hindered by various factors. For instance, to implement biomechanics for an athlete, there is a need for a bunch of computers and instruments for accurate measurements. Conventional methods further require controlled environment to measure biomechanics. In such systems, the athletes' movements are constrained by the technology surrounding them. Therefore, it restricts and confines an athlete's capacity to execute realistic movements and the chance to relate this data to their surroundings gets severely limited. To overcome this situation, an Australian sports company, 776BC brings a completely new range of sports products called Motion sportswear. This range of innovative sportswear use visual feedback via biomarkers to improve an athlete's movements.
Founders' Journey from Establishing 776BC to Introducing Innovative "Motion"
The two-time Olympic Rower and Beijing Silver Medalist, Cameron McKenzie-McHarg and his wife, Kate McKenzie-McHarg are the Founders of 776BC. The interesting fact behind their company's name is that it is named after the founding year of the Olympic Games. Prior to the foundation of 776BC, Cameron's wife, who has a marketing background, started conceptualizing about establishing a company in 2012 when Cameron approached his final Olympic Games with the Australian team. Later in 2013, they founded 776BC as a performance innovation company and since then, the company has grown from a small start-up to the leading supplier of sports garments.
776BC's innovative biomechanics technology Motion took almost two and a half years of development and brought neatness in the idea of the product to bring biomechanics into the real world. Moreover, Motion garments combined with the support of its Companion app, off­er an incredibly simple but highly effective translation of complex biometric data into coherent real-time feedback. This feedback is so useful for athletes and coaches that it can unlock the most efficient skills, exercises, and movements which improve their performance and prevent them from injuries. Through 776BC, Cameron and Kate have built a revolutionary way of discovering the marginal gains essential for successful athlete performance.
Bringing Inexpensive and Non-Invasive Solution to Measure Biomechanics
To formulate their latest innovation, Cameron and his team took advice from Dr. Ed Wittich — a leading expert on athlete analysis and product innovation at BAT Logic. They also consulted Dr. Harry Brennan — Head of Sports Science and Physical Preparation at the Victorian Institute of Sport. They have developed a capability in Motion to accurately apply biomechanics in the real sports atmosphere. As the intrinsic natural pressures like the psychological effect of competition and its impact on athletes' movement and motion can't be reproduced within a laboratory, the products offered by 776BC enables the performer to practice anywhere in the field. These garments are very effective for getting accurate readings as they use a set of visual anatomical markers (pivot points) which are designed to focus attention on specific body points and key lines. The data obtained from the wearers' actions allows the athlete to harness real-time biomechanical feedback which can be used to achieve best practice form and function in an exercise or activity.
Furthermore, its Motion range seamlessly makes use of biometric data with simple and immediate visual analysis of body movements in an exercise or activity. Unlike standard training kit which makes judgments on movement, the Motion design focuses on the key joints and body segments for quick and easy analysis. This enables the Motion range to clearly highlight the key movement of the athletes even from a distance and therefore provides real-time analysis. With an extensive research and development program, the motion is designed according to the opinions of highly experienced coaches, performance staff­, consultants, and athletes.
Augmenting the Motion Range with Motion Companion App
With his team of highly experienced personalities, Cameron brought qualitative data from their insight work and identified 'biomarkers' — a set of visual points and lines that identifies key biometric and anatomical markers on the body to show how an athlete performs activities. These markers are currently used in the Motion. Similarly, to enhance the capabilities of Motion Range, they have created the Motion Companion — a free-to-download digital application for iOS, tablet, and desktop devices. This app comes with a range of in-built features and benefits which are useful to inform and support users. Therefore, according to the specific exercise or activity, user gets instructional content stating which markers need to be focused on. In addition to this, the app has in-built performance analysis features such as live video capture, side-by-side comparison, and precision video analysis. These features include advanced review functionality, supporting both slow motion and frame-by-frame review.
To annotate their video files, athletes and coaches can use "Motion Draw and Notes" feature which offers a series of interactive tools to measure angles, make notes, draw lines, and select points. Additionally, the naked-eye and real-time visual analysis achieved with the Motion garments' biomarkers, enables coaches to reinforce development points through visual feedback and demonstration.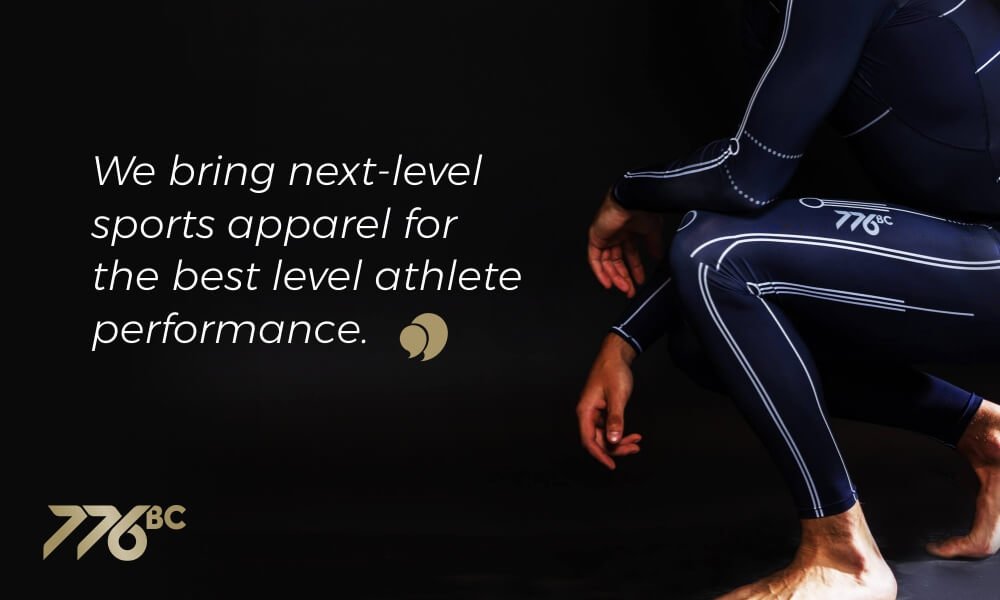 Uplifting Motion Capabilities with New Partnerships and Developments
Today, 776BC off­ers a range of products and services designed to level-up athletic performance. Each item combines technical performance solutions with true athlete insights. In addition, using the integrated sharing functionality compatible with Facebook, YouTube, Twitter, messaging, and email, every activity can be analyzed remotely. Such sharing features further make it easier to build custom training assessment programs. Presently, to link innovative technologies with true performance outcomes and solutions, 776BC has partnered with elite athletes, teams, colleges, institutes, and technology companies.