Over the last decade, the increasing digital identities in all sizes of organizations and the growing trends of BYOD and IoT have resulted in a massive growth in advanced cyberattacks; thus creating the need for adopting Cloud-based security services. Additionally, the retail industries are continuously deploying Cloud security services to protect sensitive data and digital identities associated with each customer stored on the cloud. According to the information compiled by Identity Theft Resource Center, nearly 182 million records were exposed in the 10 biggest data breaches in the first half of the year 2018.
Waylon Krush, the Co-Founder, President, and CEO of Lunarline, Inc is helping the clients to fight back against threatening the cyber-world. Focusing on vulnerabilities, malware, threats, and compliance related to Cloud Computing Technology, Waylon helped countless customers solve privacy issues with their Infrastructure (IaaS), platform (PaaS), and software (SaaS) services.
Securing the Clients Cloud Infrastructure with Lunarline Suite
Waylon's team has developed the Lunarline suite of tools to track and prioritize threats, malware, vulnerabilities, and compliance issues across the people, processes, and technology employed to secure Cloud services organizations and providers. All of these tools were born out of a specific national security need, but are now used to defend Lunarline's clients and their existing cloud security investments. LunarGroundStation and LunarDownlink tools collect, develop, prioritize, and investigate authoritative threat intelligence for all its clients and most of them are VIP personnel. For automating security configurations across the sectors and technologies, LunarAirLock secures the proprietary systems in health, science, and technology. These products are provided for Cloud Service Providers (CSP) directly or as part of the managed security and hunt services. To enhance CSP cyber workforces, Lunarline's School of Cybersecurity (SCS) provide hands-on, CBT, and classroom training for all of the cyber workforce area.
Waylon's Journey towards Leading Lunarline
Prior to becoming Lunarline's fearless leader, Waylon was a senior information security engineer in AT&T's Advanced Systems Division and Chief of the Information Assurance Group for GRC-TSC. A veteran of the US Army, Waylon held various intel and security-related technical and leadership roles, including serving as the lead technical member of the Land and Information Warfare Activity Information Systems Security Monitoring, Vulnerability Assessment Blue Team, and Red Team. For his contributions to National Security, he was honored as Knowlton Award Winner, one of the Intelligence Community's highest honors. He was also recognized as the 718th Military Intelligence Soldier of the Year, the NSA Professional of the Quarter, received the Voice of America Award and is a two-time winner of the American Legion Award.
At Lunarline, Waylon continuously works in the field by helping clients fight back against threatening cyber world. Some of his notable recent projects include redesigning a major federal security operations center to combat advanced persistent threats, developing systems for RF/Signal/System monitoring, and creating cyber intelligence platforms for various organizations around the world.
Third Party Assessment Organization
Lunarline's Cloud Security Consulting Services comprise security consulting, advanced malware assessments, penetration testing, compliance testing, and a FedRAMP Third Party Assessment as Lunarline is an authorized FedRAMP Third Party Assessment Organization (3PAO). This includes, guidance throughout the FedRAMP assessment and provisional authorization process for infrastructure (IaaS), platform (PaaS), and software (SaaS) services offered by federal and commercial Cloud Service Providers (CSPs), development of high-level cloud computing security strategy, guidance and education on critical cloud security considerations, and best practices for ensuring secure Private, Public, or Hybrid cloud environments.
As an official Third Party Assessment Organization, Lunarline is uniquely qualified to independently validate and verify that all FedRAMP requirements have been met. Lunarline's Cloud Security Consultants develops a Cloud security strategy roadmap designed to guide its clients through the security and privacy concerns of Cloud computing and help to implement a secure cloud strategy. Furthermore, Lunarline analyzes the security status of clients' current, planned private or public Cloud solution, and develops a prioritized plan based on system criticality, system requirements, security risks, and resources. As it relates to FedRAMP security objectives and industry best practices, Lunarline evaluates the effectiveness of the proposed Cloud security solution, identify the strengths and vulnerabilities within an existing cloud security program, and recommend steps to help improve security posture. These services include analysis of current security posture, a gap analysis against best practices as well as specific security objectives, and documentation of findings and recommendations.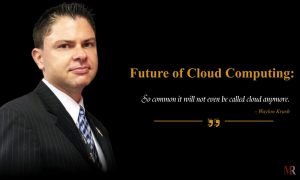 Spreading Cybersecurity Awareness with Lunarline Foundation
Waylon's service to the country inspired him to create Lunarline's Warrior to Cyber Warrior (W2CW) Foundation. This program helps nation's returning servicemen and wounded warriors bridge the gap between military service and a career in cybersecurity. W2CW has helped 100s of veterans find jobs in the cyber field. When he's not on the front lines battling cybercrime, Waylon can be found sharing his knowledge of all things related to cyber on famous news channels like CNBC, NPR, and Fox Business as well as in Military IT Magazine, Government Health IT, SmartCEO, and at conferences across the country. He is also a published author and has co-written the book titled, "The Definitive Guide to the C&A Transformation".
Threat-Proof Future with Solutions to Protect Clients' Systems
Lunarline has spent many years and millions of dollars developing a full-spectrum cyber security solutions company. Since its establishment in 2004, developing secure RFID, encryption, and video game anti-cheat software, Lunarline has always focused on its mission, "Solutions Built on Security." Utilizing its missionary core values, Lunarline creates solutions so that its customers can reach and stay in the market with resilient systems.