In the world of technology-conscious customers, every industry is reinventing and digitizing its business roadmap, workforce productivity, and assessing its role in the global energy management and conservation space. While, the electric power is undergoing major transformations in terms of getting advanced grids, diversified and cleaner energy sources, the utility industry is too witnessing a trend of regulation on performance, considering incentives vs. performance such as renewable sources, system efficiency, alternative demand-based, and time-of-use rates, incentive mechanisms, lower cost, and improved service to users.
Now zooming into the chemical industry landscape, a huge amount of capital is invested for research, pilot plant testing and scaling-up process as these form the main stages of development. Moreover, substantial part of this time and expenses are shelled out while selecting mixing devices and regimes in reactors corresponding to requirements of the process.
Israel-based, VisiMix Ltd. has developed a unique simulation tool for mixing processes that provides chemical engineers with the possibility to wisely comprehend the mixing process and to verify in a quick and user-friendly way with very reliable results, along with alternatives for improving and modifying the overall process at the crucial developmental stage.
Visimix holds a deep-rooted industry expertise of over 20 years in the international market, having served numerous industries. Built on the batch and continuous flow approach, the VisiMix's products close the gaps between the understandings of the scale up process from lab to production, or scale down from production to lab in troubleshooting or improving processes. Some of its potential market segments include Fine Chemicals, Specialty Chemicals, Pharmaceutical and Drugs, Oil and its deriv+ative products, Biotechnology, Paints and adhesives, Plastics and Rubber, Cosmetics, Food and Beverages and more, as well as Universities and other Research Institutions.
Expert Pioneer behind VisiMix's Exclusive Simulation Tool
Gad Amir is the CEO and Chairman of VisiMix Ltd. Gad is a Mathematics cum laude graduate and has master's degree in Information Systems. With over 25 years of experience in management, marketing, development, and tech support for banks, commercial companies, and the Israel Air Force, the CEO of VisiMix has also previously founded a publicly traded company, Quality Computers 77 Ltd.
In 1995, 4 Co-founders – Prof' Braginsky, Dr. Kokotov, Mr. Entin and Gad – established Visimix, armored with a new vision to develop advanced software tools for the chemical industry. Explaining his roles and responsibilities as the CEO of a leading industrial mixing-based software company, Gad says, "My role is to guide and supervise the company's operations, with a personal emphasis on business development, marketing and sales, as well as lead the R&D Team in the successful development of products".
Today, the expert simulation tool providing company is continuing its path of successfully serving numerous industries, renowned market brands, and satisfied clients from all over the globe.
Overview of VisiMix's Expert, Reliable & Result-Oriented Solutions Portfolio
VisiMix Ltd. developed the first PC software for technical calculations, analysis, improvement, scale-up, and development of mixing processes and equipment based on mathematical simulation. Its user-friendly products enable chemical engineers, process engineers, and R&D personnel to visualize mixing processes and to calculate the most important process parameters for single and two-phase systems. These parameters include power consumption, circulation rates, local concentrations of solutes and suspended particles, drop size, concentrations of reactants in chemical reactors, and more. VisiMix products also provide efficient solutions at all critical points of the process such as troubleshooting/improvement, equipment design, process R&D, equipment purchase, production, etc.
These products provide data about the dynamic characteristics of mixing equipment, and a wide range of data required for mathematical modelling of different unit operations such as local flow velocities, turbulence intensities, micro-mixing, etc. VisiMix inputs consist of easily accessible data on the mixing equipment and the properties of the media. It also provides engineers with tables and graphs on process parameters that are influenced by flow and turbulence. The VisiMix's software suite is user-friendly and reliable and consists of following six products.
VisiMix Turbulent: Low viscosity liquids and multi- phase system.
VisiMix DI: Combined mixing devices.
VisiMix Laminar: Highly viscous and non- Newtonian.
VisiMix RSDE: Rotor Stator Disperser and/or Emulsifier.
VisiMix Pipeline: With Carreau rheological model.
VisiXcel: Creates an organized database.
Feature Rich Qualities Defining High Software Standards
VisiMix software is based on a system of original physical models that combines general scientific knowledge with experimentally obtained expertise related to mixing. Owing to that, VisiMix is the only software that allows mathematical modelling and calculations for all types of impellers and the most homogenizing devices. It also provides engineers with mixing-dependent process parameters, such as distribution of solids or solutes, drop size, degree and duration of homogenization.
More importantly, VisiMix supports the modeling of mixing with impellers of any industrial design. Comprehensibly, a complete set of dimensions and angles of the blades is required for an exact simulation. If such data are not accessible, VisiMix provides recommendations for the approximate input that would result in an acceptable degree of accuracy of the simulation.
Additionally, using the VisiMix tool for scaling up or troubleshooting, users can dramatically decrease the uncertainty of the scaling up process, ultimately reducing the cost of transfer of the process from the lab to production, or from one site to another or from production to lab in troubleshooting. While adopting this simulation software tool, no additional knowledge is required and can be easily accessed by an engineer.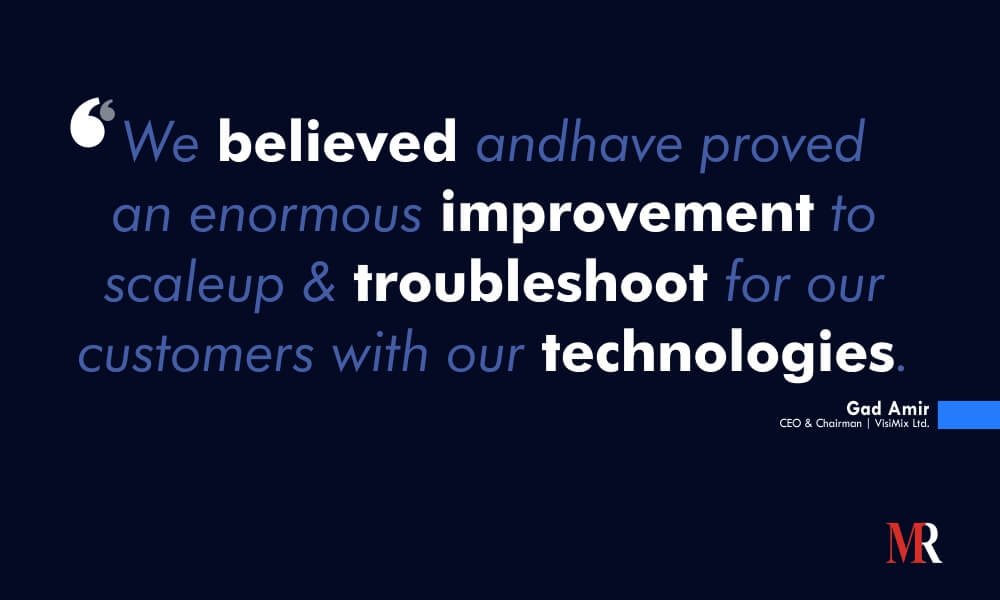 Possessing a Solid Competitive-Edge over Other Contenders in the Market
One-of-a-kind Software: VisiMix – as a leading software development company in the mixing era – has a team of highly qualified mixing professionals, including world's renowned scientists with more 100 years of combined experience in research and mathematical modelling of mixing, and heat and mass transfer; development of new processes and equipment for different branches of the chemical and process industry, and lastly designing, testing, manufacturing, and operating of all types of industrial mixing equipment.
Integrated Software: The Israel-based simulating tool providing company together with local and average characteristics of flow provides complete information on mixing, heating, and mass transferring parameters, thereby directly connecting to the object and purpose of each process.
Roaster of Happy Clientele Base: Over the years, it has successfully catered to many leading chemical and machinery companies worldwide, including DOW Chemicals, 3M, BASF, GE Healthcare, Novartis, Pfizer, De-Dietrich, Teva, Chevron, etc.
Rock Solid Expert Team: The VisiMix's customers obtain technical support provided by a team of chemical and physical engineers that includes globally acclaimed professionals from mixing, processing, and equipment developing sectors.
Planning a Brighter Tomorrow
In the coming years, VisiMix is planning to develop additional family of products to the chemical engineers, such as – Off Center Impellers, Draft Tube, Static Mixers . It is also contemplating on developing the market knowledge for influencing better quality of mixing processes. Geographically, the leading simulating software tool providing company is also looking at U.S., Europe, India, Japan, and South America for its global expansion.