With the provision of more scalability and greater flexibility for IT infrastructure and application services, Cloud represents a new paradigm in business and technology. It offers a cost-effective means to meet rapidly growing and dynamically changing market requirements. While enabling mobility, collaboration, or innovations in Machine Learning, Big Data, or Internet of Things (IoT), Cloud computing empowers businesses to optimize, innovate, and disrupt to gain a competitive edge. Moreover, Cloud technology has given companies the dexterity in their IT infrastructure to scale and react to the IT needs of the clients for supporting their growth aspirations.
The CIO and Senior Vice President of UST Global, Sunil Kanchi is an IT & Engineering Services leader with significant experience in the manufacturing industry. Through UST Global, Sunil is offering real world IT solutions that enable clients to profitably transform their businesses and the lives of their customers.
Sunil's Journey of Driving UST Global's Success
Sunil joined UST Global when his previous venture Kanchi Technologies was acquired in 2014. While working with UST, Sunil realized the entrepreneurial friendly culture of the California-based company, which enables each and every employee to unleash their best potential and experiment with innovative ideas and realize their entrepreneurial spirits. Sunil, with the team of UST launched UST Garage Ventures that provides this platform to unleash the same spirit.
Sunil is known for his execution excellence, ability to build high-performance teams, drive profitability and growth through innovative solutions, and create effective sales and go-to-market strategies. Sunil implemented one of the best execution models to work with the best clients. While the market was swarming with tech players that were primarily offering traditional outsourcing services, UST positioned itself as a visionary company. Sunil with the team of UST spurred innovation by striking major product development partnerships. Since its establishment, UST has helped clients to finalize products and services from concept to marketplace. Sunil and his team figured that in order for a company to be successful for the next millennium, they need to have a purpose larger than oneself, which was something beyond a traditional sense of business operations. Today, most of the leading companies are clients of UST Global, considering UST Global as their strategic advisor and partner. When started, instead of chasing venture money, the team of UST focused on the Fortune 100 companies. UST Global was founded in 1999 with only 14 employees, and today, it has over 20,000 employees spread across 5 continents and 28 countries.
At the Forefront of Digital Disruption Led by Innovation
As CIO, Sunil is responsible for information technology, communications, and digital transformation of all internal systems for global operations covering around 28 countries. As the Senior Vice President, Sunil also leads Engineering Services and supports Diversified Manufacturing portfolio globally. In addition, Sunil leads global partnerships & alliances, with the special emphasis on creating a startup ecosystem and the corporate venture capital team. With the mission to "Transform lives," Sunil and his colleagues are mainly focused on their customers' satisfaction. They also take innovation to the market with speed and agility; thereby ensuring commercial viability and profitability. UST's design capabilities bridge the gap between insight and action through the digital levers like mobile, social, analytics, cloud, cybersecurity, and augmented intelligence.
Customer Focused Products Backed by Advanced Technologies
Currently, UST is building customer-centric products, platforms, and technology solutions around Design, AAA (Algorithms, Analytics & AI) and SMARTS (Social, Mobile, Augmented Reality, Internet of Things, and Security).  For these technologies, UST has innovation centers called 'Infinity LabsTM' at multiple locations around the globe. Furthermore, one of the key platforms of the California-based company is UST SmartOps that can power all the offerings from UST Global. In terms of infrastructure and Cloud, the team of UST is bringing together integrated solution offerings to drive automation and intelligence into operations. UST AthenaTM is the infrastructure and Cloud solution which provides a single pane of glass for all Cloud and infrastructure operations. On the other hand, AthenaTM offers migration of workloads, optimization of operations, as well as facilitates edge computing and runs applications on the cloud. These entire operations are front-ended with the digital agent, UST MayaTM.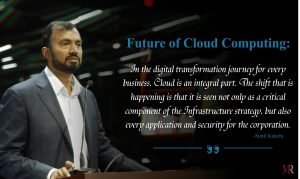 Future Strategies for Empowering Clients
Sunil and his colleagues are striving to make UST Global as an innovation-led company to support customers to be the leaders in their own domains. At UST, Sunil focuses on harnessing the power of nuanced platforms, including Cloud across domains for its customers and their ecosystems. For this reason, UST launched a set of products and platforms that will power the next generation of innovation for its customers, thereby accelerating their engineering. However, these products are based on the set of traditional and digital technology services, which are still required to enhance business capabilities. Sunil believes that Cloud is one of the many levers in the flywheel of technology innovation.
Valuable Suggestions for Aspiring Entrepreneurs
According to Sunil, having a passion for ideas with deep technical competency and an extreme focus on customer delights is beneficial for aspiring leaders because, nowadays, Silicon Valley venture capital funds are only funding founders with such capabilities.
Talking about the future of Cloud Computing, the dynamic CIO and Senior VP of UST says, "In the digital transformation journey for every business, Cloud is an integral part. The shift in technology is happening because Cloud Computing has become a critical component of the infrastructure strategy, as well as every application and security for the corporation."