AR/VR technologies arrived into the commercial world too late. However, nowadays, these emerging technologies are coming to everyone's center of attention with their interesting applications. Currently, most of the industries are adopting AR and VR technologies for different purposes. In some applications, AR is breaking down the complex medical concepts with interactive 3D visualizations, whereas, VR is doing dramatically well in the education industry by transforming the learning experience of students. In the dramatically changing technological world, these advanced technologies have succeeded in winning numerous hearts, thereby making an irreplaceable presence in the global market.
Established in 2015 by taking over a small company in Rajasthan, Shubhashish IT Services Limited (SITSL) is delivering robust and business-oriented software development solutions powered by AR/VR technologies. In addition, SITSL utilizes the latest technologies like AI, Blockchain, IoT, cybersecurity, and Salesforce.
Extraordinary Offerings with Versatile Development Experience
Since its establishment, SITSL has successfully accomplished various awards and certifications along with a huge client-base. Furthermore, in a short span of time, the Houston-based company has expanded in major global economies like USA, UK, France, South Africa, Dubai, India, Singapore, Kuwait, Brazil, Spain, and Saudi Arabia. We are soon going to expand to several new locations including Germany and Caribbean.
Initially, SITSL used to deliver basic web-hosting solutions such as designing, development, and marketing. Today, while understanding the needs of the modern users, SITSL has added several new services to its IT offerings, including AR/VR solutions, Salesforce, cybersecurity, bot development, full stack development, digital marketing, and business intelligence. The eminent IT firm loves to explore new technologies and embrace the latest changes to enhance its offerings. By upgrading the services with these latest technologies, SITSL has become a promising IT firm.
Quality Services for Clients Powered by Up-to-date Technologies
The very first thing that has been SITSL's USP is providing hundred percent quality services to clients. The prominent IT firm does not believe in false commitments, therefore whatever it commits to clients, SITSL makes sure to fulfill those promises on time. Apart from following all the quality parameters and constructing stunning digital portals to meet clients' business goals, SITSL's specialists make their cyberspace extremely secured by applying multiple layers of security. To offer an outstanding experience to clients, the leading IT firm powers up their web portals with the latest innovations of technologies like AI, AR/VR, and Salesforce.
CEO Expanding Shubhashish Group with New Key Solutions
Mohit Jajoo, the Executive Director and CEO of SITSL is following the business legacy of his father and for Shubhashish Group. Mohit did his graduation in Architecture from Malaviya National Institute of Technology, Jaipur, India. Mohit always had an inclination of joining the family business since an early age and so after entering Shubhashish Group of Companies in 2011 with a resolution to take it forward to new heights, he immensely contributed to its impressive growth through sheer hard work and dedication. Furthermore, in 2015, Mohit Co-founded Shubhashish IT Services and expanded the service regions of Shubhashish Group. He believes that IT is the most important part of any business. The dynamic and young CEO has comprehensive future plans to turn SITSL as one of the leading brands of the country in the next 3 years.
As the CEO of SITSL, Mohit looks after all the different segments of the company. He creates and executes various business strategies. Likewise, he maintains the high standards of corporate citizenship and takes care of the yearly budget and expenditures of SITSL. The inventive CEO likes exploring new business trends and identifying new key areas of service, because such curiosity not only refines his knowledge but also enhances SITSL's productivity.
He is a philanthropist by heart and actively participates in operations of Jagriti, one of India's top 7 NGO working day and night for child welfare.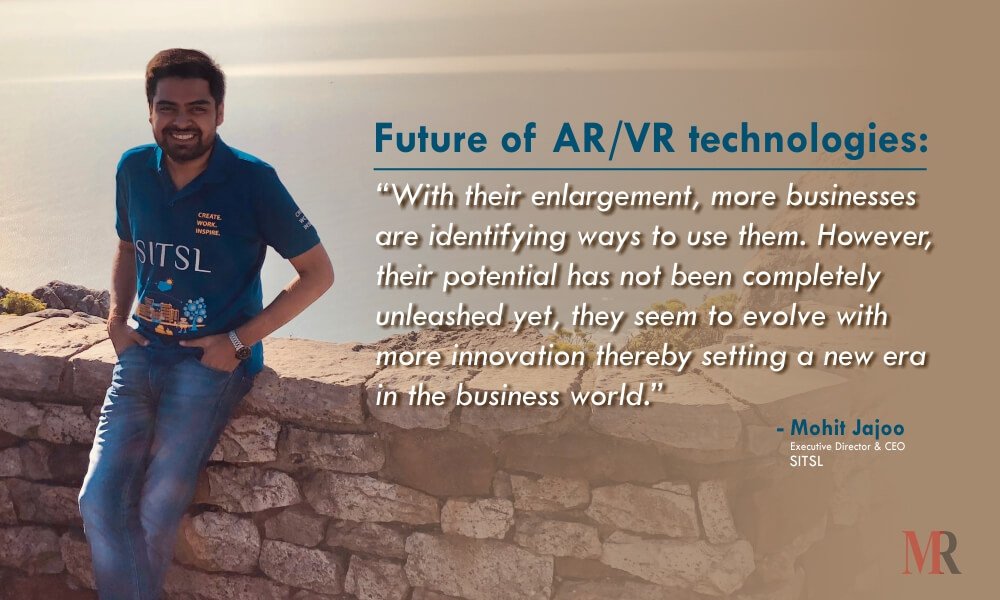 Broad 2020 Vision for SITSL
Being an authoritative digital transformation company, SITSL is committed to following sky-high quality parameters while meeting clients' business goals. Hence, the brilliant team not only develops an ordinary software solution, but also powers it up with the latest innovations in technologies such as AI, AR/VR, and Salesforce.
The hardworking team of SITSL is focused currently on its future vision that aims to achieve $100 million of revenue by the end of 2020. It sounds a really big number, but the SITSL team believes that a target isn't a target until it seems next to impossible. Besides dedicatedly working for their vision, the members of SITSL family will continue expanding brand's reach globally by involving all the new tools and technologies to their services.
Moreover, technologies like IoT and Blockchain will be added to SITSL's IT offerings soon for future enhancements in its offerings. The leading IT firm's desire to serve futuristic solutions is helping them to continuously upgrade its offerings with time while combating business challenges.
SITSL envisages a significant potential in AR/VR technologies and is planning to create impeccable solutions for a variety of industries as a part of its vision. For instance, manufacturing industries can employ augmented reality in their systems and can oversee how there processes are performing, find loopholes, and apply improvement measures. Data visualization systems can become more effective with the infusion of AR as it will enable analyzers to view large sets of data in real time. In medical, AR and VR can help students learn and practice the complex processes of operations to help them carry out surgical processes more immaculately.
CEO's Words of Expertise for Young Entrepreneurs
As a young leader, Mohit has seen a lot of changes in his IT career. According to the young CEO of SITSL, the IT sector is larger than one thinks and it's really hard to predict the future of the IT industry. Today, there are countless IT companies worldwide with rapidly growing figures every day. The increasing number of companies isn't the only challenge here, because changing technology is another hitch. Therefore, to mark a strong presence in such a huge market, one needs to be very careful with their marketing strategies. Likewise, IT startups also need to keep their eyes peeled for the current technology trends and should involve some of the latest technologies into their offerings. This helps them to attract the customers' attention effectively.
Speaking about the future of AR/VR technologies, Mohit says, "With their enlargement, more businesses are identifying ways to use them. However, their potential has not been completely unleashed yet; they seem to evolve with more innovation thereby setting a new era in the business world."