Today, the number of applications that enterprises and IT professionals need to manage has drastically increased and diversified. They are also significantly more sophisticated and internet intensive as compared to those that were used just a few years ago. Today's enterprises are relying more and more heavily on cloud-based delivery of applications, services and data versus the traditional data center providing these. As a result, these changes have created various challenges for the enterprise and IT professionals as they struggle to manage and optimize the performance, security, and scalability of their networks.
Mushroom Networks, the next-gen networking company, is working on revolutionizing how enterprise IT manages their networks. The company's goal is to "set networks on autopilot", which includes automating the enterprise network edge in branch offices. In addition to this, it also provides simplified service delivery and optimized performance for accessing IaaS and SaaS platforms.
Mushroom Networks' primary focus has been to automate IP packet flows by mapping the flow types onto appropriate overlay tunnels, which are specifically designed to optimize the performance and reliability of those types of application flows. For example, a large datafile download application is more concerned with bandwidth than latency, so these sessions are dynamically steered to an overlay tunnel optimized for bandwidth, while a VoIP conference call, which is critically dependent on low latency, would be steered to another tunnel optimized for latency.
Additionally, Mushroom Networks' solutions offer unmatched flexibility and agility to IT managers who can now customize and optimize their networks using a user-friendly GUI interface. This allows larger organizations with more complex needs to utilize the advanced capabilities of the SD-WAN platform quickly and easily to manage and optimize their networks. Smaller businesses with no dedicated IT personnel and minimal explicit network requirements can also easily take advantage of Mushroom Networks' innovative automation and optimization of network resources.
Perfect Combination of Ease-Of-Use and Enhanced Capabilities
In 2004, Dr. Jay Cahit Akin and his team laid the foundation of Mushroom Networks by inventing broadband bonding technology. Their real-world experience with last-mile SD-WAN is unmatched in the industry, allowing them to leverage their large client base in order to optimize last-mile WAN management. An example of this is the company's wireless LTE/4G D-WAN bonding solutions. Their devices are capable of combining highly varying and challenging cellular connections into a single, high-reliability IP tunnel. This allows for delivery of broadcast-quality live video streaming from remote locations using only cellular transport – a capability unmatched in the industry.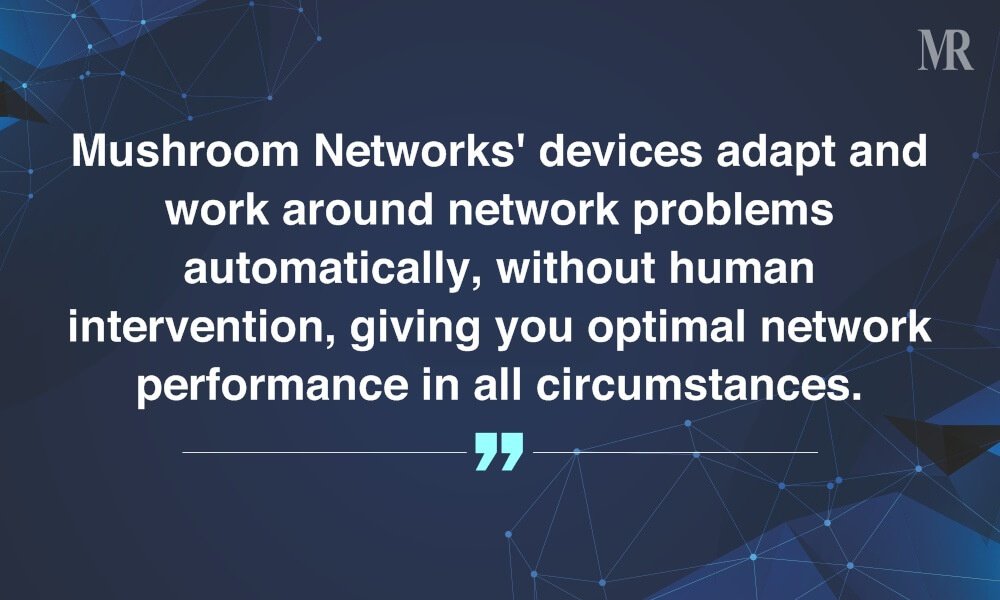 Its leading SD-WAN technology is a perfect combination of ease-of-use and enhanced capabilities. If the user prefers the default settings utilizing cutting-edge SD-WAN capabilities and built-in firewall protection for the branch office, the device is essentially "plug-and-play" and installs with zero changes to the users' existing network.
Smart, Adaptive, and Blazingly Fast Services
The network challenges faced by enterprises are generally well understood and there is a huge market for viable solutions. Despite the intense competition, Mushroom Networks' has risen to the top and their popular SD-WAN solutions have become best sellers. This includes their wired multi-WAN devices for branch offices, as well as their cellular bonding of multi-SIM appliances. However, the key advantage that their SD-WAN provides is their sophisticated overlay tunnels' ability to automatically and dynamically adapt to changes in network and traffic conditions without human intervention.
Mushroom Networks Fits Your Size – One Office or Thousands of Branches
With the help of the SD-WAN framework, service providers can easily deploy and manage client WAN services, while individual branch offices can easily achieve previously unknown network performance and reliability. With its application-centric overlay bonding tunnels, one can unlock the power of self-healing cognitive networking that solves network problems even before they can be detected.
Smart Networks That Learn
The overlay tunnels are smart enough to think for themselves. They are constantly measuring vital network statistics on all links such as bandwidth, latency, jitter, and others. Application flows are routed to the appropriate paths on a packet-by-packet basis ensuring optimized network performance every time. The tunnels measure, store and remember so you don't have to, and paths are automatically black-listed and white-listed per flow, as appropriate.
The Most Admired CEO of Mushroom Networks
Dr. Jay Cahit Akin, (CEO and Co-founder), prior to co-founding Mushroom Networks, was a venture partner at ITU Ventures for 7 years. Initially, he worked in the marketing consultancy sector and then went on to manage the Adaptive Systems Laboratory within Qualcomm Institute. He has dedicated two decades to researching the technical aspects of communications and providing practical solutions, including owning several patents and authoring many publications.
Dr. Akin obtained his Ph.D. and Master's Degree in Electrical Engineering & Computer Science, as well as a Master's Degree in Applied Mathematics, from the University of Michigan at Ann Arbor. He is a recipient of the NATO Graduate Study Scholarship award and was a national team member for the International Mathematics Olympiad in 1993.
Today, he is the Co-founder and CEO of the industry-leading SD-WAN company and was a recent nominee for the Most Admired CEO award by San Diego Business Journal. "Whoever says they have not made any mistakes is not telling the truth. Having said that, my approach to mistakes has been to look at them as experiences that were needed to make me the person I am today," said Dr. Akin about his professional journey.
 Outstanding Client Feedback
Dr. Akin believes that listening to client feedback is of utmost importance in improving the market-product match as well as ensuring complete customer satisfaction. This is evidenced by the large number of enthusiastic customer comments:
"I was highly skeptical that this device would perform where so many others have failed but this thing rocks!!"
– Jacques Robinson (Director, Progress Financials)
"Since implementing [Mushroom Networks'] devices, our emergency on-call technicians receive much fewer down-time calls. This has been beneficial to not only our employees but also to our fiscal budget,"
– Ryan Headrick, Information Technology Manager, Albertina Kerr.
Networks on Autopilot
With an industry-leading vision to set all components of network management on autopilot, Mushroom Networks is marching steadily towards a successful future. In the coming years, the company's goal is that their SD-WAN appliances will be so automated there will be no need for a complex (or ANY) user interface.
Dr. Akin asserts, "Eventually, similarly to a self-driving car, the driver (in this case the IT manager), can take his or her hands off the steering wheel and work on other important and high-level projects, instead of fighting daily fires and working on mundane networking configuration."
"Mushroom Networks' devices adapt and work around network problems automatically, without human intervention, giving you optimal network performance in all circumstances."