Creativity, according to Muhammad Rahimtoola, Founder & Executive Director of 24 World is the ability to think holistically along with the considerate factors of the surroundingenvironment.In essence, a creative person is a refreshed individual who can encompass and adapt as per the need or desire. Muhammad strongly feels that information perspicuity is also an essential component of a refreshed individual and this combined with a logical overtone produces maximum output.
Muhammad holds a Bachelor degree in Mathematics and Computer Science from The University of Western Australia. He began his career by joining a media industry and was primarilyinvolved as a Producer for television content. There, Muhammad led two different channels (TVOne) and (MasalaTV) and was geared for more. However, as the future of content on media was also aligned to take a turn towards digitization, he preferred to venture towards the tech industry.
Having a background of computing, the initial part of Muhammad's venture was exciting. Regardless of that, expansion towards multiple service areas posed many challenges. Blessed with a sharp intellect, rationale and tenacity to succeed, Muhammad successfully delivered timely results with the core focus and efforts on technology incorporation towards efficiency.
24 World: Prefered Partner For Rendering The Technology Solutions
24 World is a digital agency,providing holistic technology solutions to its clients and partners. From a basic web presence to ERP solutions, the firm is dedicated to being a partner in guiding businesses and setups in incorporating technology towards growth and effective management.
Instances where businesses lack the understanding and competence on the adaptability of technology,24 World plays a significant role in merging these setups towards an efficient digital future, thereby creating a passage of trust and believability. Following mentioned is a brief roadmap of who, what and how tech solutions are designed and developed by 24 World.
Composition: 24 World is made up of a bunch of geeks with diversified backgrounds in advertising, broadcast media, technology and trend-watching. Together with his team, Muhammad launched 24 World in the recent past and has not only stood the test of time, but also built a number of digital brands since its inception in 2010. Also, the combined ability to provide solutions and effective channelization of work demonstrate the agency's nature of delivery in modern times. According to Muhammad's team, building on a digital base for efficient communicationis the ultimate success of brand building in times to come.
Functions:The digital agency draws up business plans for its clients and help them to reach out to their potential customers. To a high extent, most of its potential customers are searching online for a similar range of services that 24 World'sclients already have in store for them.
Execution:The team of 24 Worldcreates responsive platforms for its clients so that they are able to make an impression for their respective customers. The team optimize products, thereby improving ranking and listing for business purposes. They also provide a strong technology backbone for supporting the ever increasing need of presence on various forums.
Expertise and Knowledge:24 World pridesitself in having a strong developmental base which has its enabled growth onto creative and client service based detailing. The ability to conduct continuous research and experimentation for newer platforms and technologies is a feature of its working environment and practice. Moreover, building on interest and skill of individuals for utilization onto the digital platform is an added extension of its ability to nurture and develop talent for innovation and productive output.
Range of Unique Services by 24 World
In today's expanding world, mobile adaptability is working in conjunction with a complete web presence and is crucial to achieving basic business objectives. 24 World is committed to delivering these standards and improving success ratios for each of their clients.It offers a broad range of services for the following industries.
E-Commerce:24 World's eCommerce client-base includes a list of distinguished banks, insurance companies, fashion gurus etc.
Mobile Application:Assistance is provided to small and large businesses for reaching out to their customers at the most predictable of places.
Game Design:The team designs and develop games, fitting the goals of the client organization, be it a digital game, board game or pervasive game.
Digital Marketing:Campaign planning and PPC management are endorsed tactics that 24 World uses to drive targeted results fordesired objectives and challenges.
Content Distribution:The leading digital agency is a YouTube verified partner and a reliable content distribution network, offeringpublishers an effective delivery channel.
Social Media Marketing:Being social means more than being social. Therefore, Muhammad's team devices a well thought-out plan and an editorial calendar for their clients to mark their presence on all the social media platforms.
Major Highlights
Pakistan Web Awards 2011 (Partner)
One of the first banking applications in Pakistan 2013 (UBL NetBanking)
Pakistan's first Life Insurance Application 2014 (EFU Life PlanIT)
First Interactive Life Assessment Tool 2015 (Jubilee Life Needs Station)
Top 25 mobility solutions providers 2016 (Asia Pacific)
Pakistan's First Sports Publisher Network 2017 (ScoreLine)
Pakistan Digi Awards 2017 ('Best Emerging Technology' category)
Top 10 mobile application developers 2018 (Global)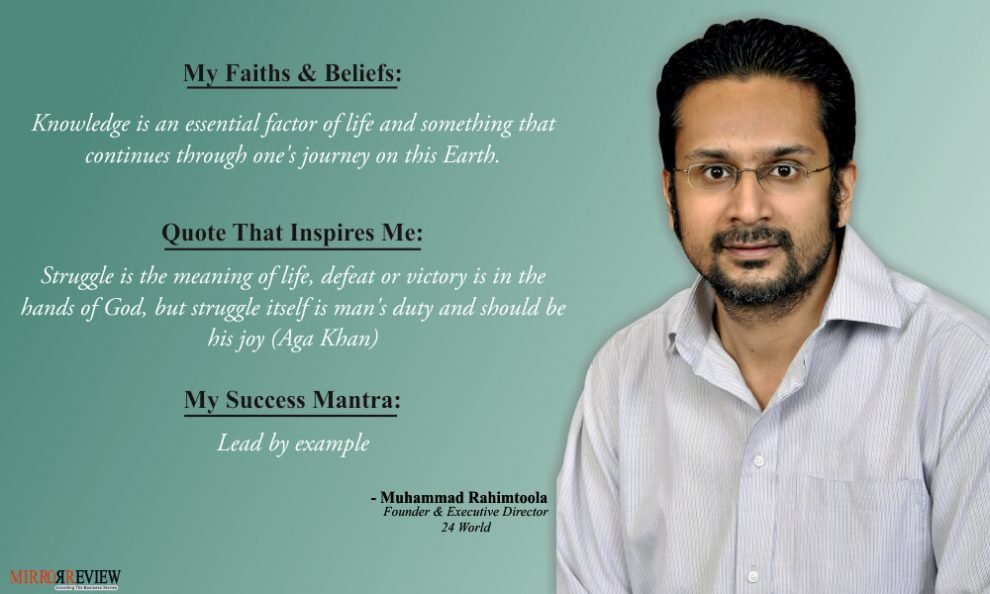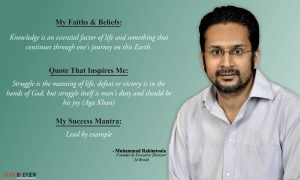 Creativity Has No Age Limit
The Founder & Executive Director of 24 World feels that there is no creativity gap between any of the generations. As a matter of fact, without the processed resources of today, the older generations were far more creative in their solutions and outcomes with effect of living and management of resources in this world.