Today, innovative tech solutions are emerging daily. With the integration of AI and ML, tech inventions have surpassed imagination. Being familiar with tech and AI is common. Martin Hubert (Founder of Freightgate) was a mere 16 years old when he sold his first program. Martin pursued his education in computer science. While completing his graduation, he also started a software company selling custom software solutions. After graduation, Martin joined a freight company where he ascended to become Director of IT.
Martin's independent Internet quest began in 1994 when he integrated his tech knowledge in the logistics industry and established a company that focused on providing track and trace capability over the internet through establishing EDI capabilities with carriers. In 2000, he established Freightgate with a vision to provide a focused platform that improves life for logistic companies and shippers. Now known as the Cloud—Freightgate's founders are early pioneers and visionaries that are driven to harness the power highly collaborative ecosystems hold.
Comprehensive and flexible logistics cloud offerings
Freightgate has one of the broadest and most flexible logistics cloud offerings in the market. It has decades of experience delivering digital supply chain transformation services and software to shippers, 3PLs, and their customers. Driven by the desire to generate value Freightgate defined several packages geared towards smaller and mid-size Importer and Exporters, allowing them to take advantage of the unique dynamic rating and routing paired with comprehensive schedule and benchmark data.
In regards to the COVID-19 outbreak, the Freightgate Logistics Cloud will assist its clients to achieve their supply chain goals by providing an adaptable platform, reducing logistics costs and risks by improving end2end processes and global visibility in ways best suited for their businesses. Freightgate is offering a webinar to help Importers and Exporters get ready for the unprecedented RFP season.
Martin advises, "Equip your business with the leading-edge technologies you need to run your supply chain and to help align your strategy with your risk appetite."
In order to understand the disruption caused to the freight industry, we engaged in an interesting conversation with Martin Hubert. He has shared his optimistic POV and shed light on the opportunities one can encounter despite the crisis. Here are the snippets,
What is your opinion on the adverse effects of the COVID-19 outbreak on your industry?
To comment on the current scenario, we will first have to understand two main factors that are affecting the current situation and the aftermath of COVID-19 on the industry. The general economic recovery largely depends on outside factors that are beyond our control. What we do have control over is how we adapt to these times by responding with more efficient processes and the use of technology to make better-informed decisions.
So, has the pandemic adversely affected Freightgate?
I believe that the direct effect of this pandemic has provided more of an opportunity for Freightgate. The crisis has helped us provide the needed solutions to our customers and assist them in taking control of the freight, make data-driven decisions. This provides the ability to respond to the market conditions in real-time with the use of our Freightgate Cloud Platform.
What's your take on COVID-19 changing the day-to-day working style?
With COVID-19 posing critical challenges for businesses, many organizations are experiencing vulnerabilities related to their workforce, significant fluctuations in product demand, and heavy supply chain disruption from the affected areas. Unpredictable events and uncertainty related to the pandemic continue to expand the scope of risks, highlighting the heightened need for crisis management and plans to build strategic, operational, and financial resiliency across the industry. Fortunately, we have built a loyal customer following and are energized by the trust placed in us.
Has remote working put forth any challenges for your company's work routine?
As we all know the sudden change to remote work-life has caught many businesses including ours by surprise. However, we are an international team and are therefore prepared to work from home. Even when working remotely, we have daily stand-ups, check-ins to stay aligned and post daily wins to celebrate as a team.
Given the need for social connection and positivity, are there any special approaches that you undertook?
As we shifted to remote working, there were several initiatives that we undertook to maintain that positive team spirit among us. We are talking daily on web-conferences and the telephone. We are proud to have succeeded in maintaining that social connection. The most important part of our business—the customers—are benefiting more than ever from the passion and collaboration we provide. We have also started a Linked-In group for the industry to foster cross-functional collaboration and a spirit that enables helping each other.
How have you coped with the digital disruption in the Supply Chain and Logistic Sector?
Freightgate's mission has been to help cope with logistics challenges while avoiding digital disruption by providing automated services powered by advanced information. With our Logistics Cloud™, we offer one of the best digital transformation toolsets, but we understand that it takes time and effort to overcome internal hurdles when modernizing the way businesses work now. Customers can greatly benefit from what we have been doing for more than two decades and avoid digital disruptions. Automate processes, raise efficiencies, reduce monotonous tasks, and create an environment where employees can address exceptions creatively and find better ways of solving the day-to-day puzzles.
We're working diligently on tailoring the right solutions to our customer's needs while improving our cloud with enhanced AI and ML capabilities. We will continue to push the definition of what's possible.
In regards to the current situation, how are you anticipating the future to be?
I wish I had a crystal ball and could predict the future. I am convinced the industry will get more connected and we will see how carriers are pushing for online bookings and more API enabled services. Freight rates have been extremely volatile with the fluctuating supply and demand, empty sailings, canceled passenger flights, airlines taking out seats to allow for more cargo space, and truck capacity is very constrained.
We are expecting to be uniquely positioned to empower many new customers with our DYNAMIC RATING and ROUTING platform, enable vast efficiency gains with zero-touch dispatch (RPA) and our investment in IoT.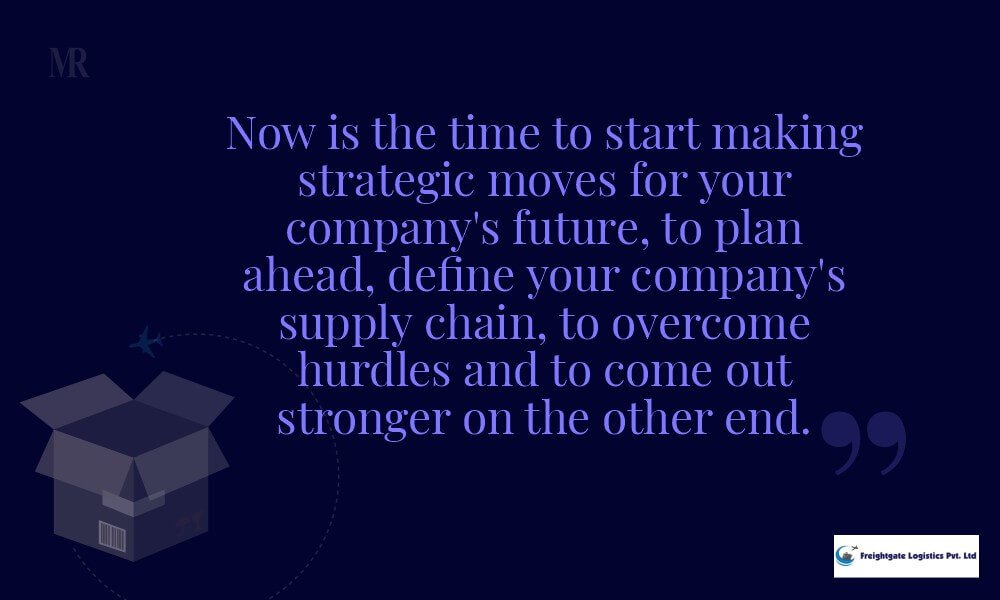 Read full issue: The 10 Best Leaders In the Supply Chain and Logistic Sector 2020