Over the last few years, pioneering technologies have transformed numerous businesses. But, agriculture which is an age-old sector is lagging behind in comparison with others. With the increasing population, the traditional farming methods are insufficient to provide foods that are available to everyone. In addition to this, farmers are facing various challenges related to soil, water, livestock, crop, etc. Today, AgTech companies are leveraging technological innovations to help farmers tackle their challenges. GroGuru is one such AgTech company that provides IoT-powered system to ensure the right level of soil moisture and soil salinity available for crops to thrive.
Digitizing Farming with Advanced Technologies and Tools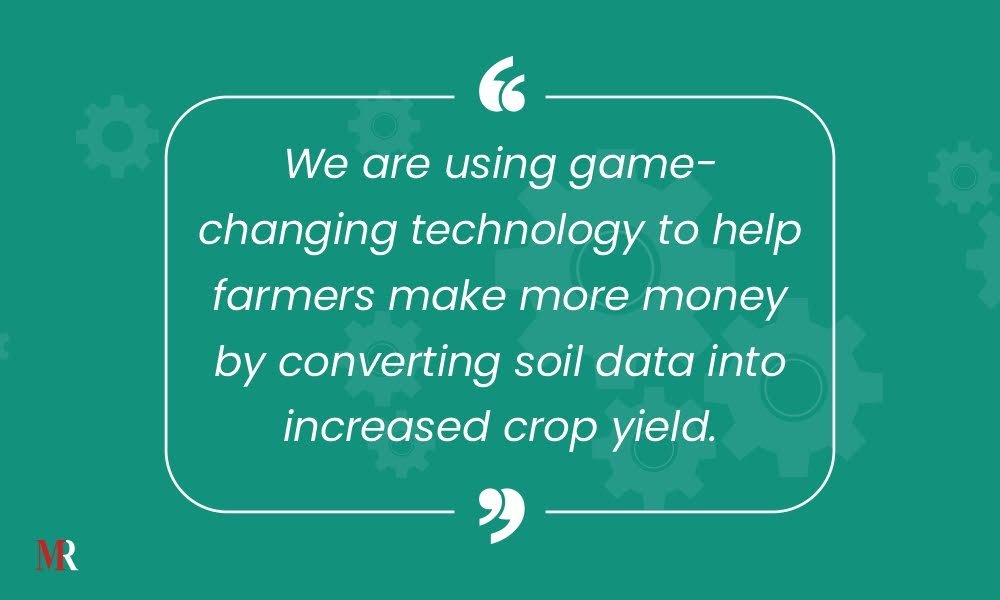 GroGuru is concentrated on creating a world where farmers can grow more crops in economical ways while substantially conserving valuable resources. The company provides soil sensors that measure entities such as soil moisture, temperature, and salinity at several root depth of crops. These sensors collect the data and wirelessly transmit to the cloud where additional information is added to make AI-based recommendations for farmers. It recommends when and how much water is needed for their crops. In the cloud, information about soil type, crop type, weather, and root density are used for creating recommendations. GroGuru collaborates with the farmers and irrigation control suppliers to provide an end-to-end solution for irrigation monitoring and management. Farmers can check and monitor the field's status through electronic devices such as smartphones, laptops, and tablets. Using GroGuru's solutions, farmers can increase 10% in crop yield and save 20% on input costs like water, fertilizer, and energy.
Building a Diverse Team to Tackle the Agricultural Challenges
The AgTech space is a highly dispersed space where companies cannot create large and fast enough sales force to address vital market opportunities. Therefore, organizations need to depend on partnerships they form including channel partners to cultivate the businesses. To achieve this, companies require specialized knowledge and expertise in agriculture and various technologies to form those partnerships. Generally, the traditional enterprises do not have the required capability and knowledge but what they do have is the know-how of cloud computing, software, and hardware to develop solutions. GroGuru is an exception to this rule.
Two Powerful Pillars of GroGuru
At GroGuru, Farooq Anjum and Jeff Campbell, the Co-founders, and Patrick Henry, CEO have built a diverse team who has the essential technical, domain, and business expertise to work in the AgTech space. This team communicates directly with farmers as the end-customers to know and understand their pain points.
While driving the product development of GroGuru, Farooq is currently working at the intersection of IoT plus AI and applying it to the field of agriculture. He has successfully launched multiple generations of ORW wireless networks directed for numerous M2M verticals such as smart grid, Transportation, Oil, and Gas, etc. He is also an architect of the OnRamp Wireless wireless network for IoT devices that are deployed in 30+ countries.
Presently, Patrick is providing strategic leadership for the company by working with the Board and other management to establish long-range goals, strategies, plans, and policies. He is a serial entrepreneur and senior executive who has directed four different startup companies. He has personally raised over $200 million in equity financing for his companies and been directly involved in over $2 billion of M&A transactions. The serial entrepreneur—Patrick targeted the agriculture industry because he identified extensive benefits of the digital technologies in farming and for farmers. Even though, agriculture has been the slowest adopter of digital technologies, it is now in the process of catching up with other industries.
Patrick's Viewpoint on Investing in Technology  
Patrick believes that companies should invest in technologies in which they truly believe in and are fascinated about developing solutions by using them where there is a clear market and customer need. But, to also ensure that team members are excited about the product that they are going to build. It is known that the team's implementation ability affects the growth of business so keeping workforces on the same page is profitable as well as beneficial for the products.
A Piece of Advice for AgTech Companies
The versatile CEO says, "Every choice and every move I made led me to where I am today. Everyone goes through tough times in their careers, but it is how you take those tough moments and grow from them that truly matters. This is a crucial part of growing." Therefore, having in-depth experience and knowledge of the industry, Patrick understands the associated difficulties of running a business. He, therefore, recommends focusing on what major problem you are trying to solve and whether it is important for the customers. Put your focus on the customer needs and understand what type of problems they are confronting. This leads to obtaining insights into the pain points of customers and observing things from their perspective. According to Patrick, the professionals running an AgTech business should spend time with farmers, ask them questions, and listen to the answers. "Listen to understand. Gain a deep understanding of what they want and need to become successful. Then see how you can be of service to them," adds Patrick.
Groguru's Future Plans for Upcoming Years
GroGuru is at the initial stage of futuristic expansion of digital technologies in the agriculture industry. The company is addressing huge worldwide issues where digital implementation is not only useful but also vital for growing food and water in a sustainable manner. It is an exciting time for developing farming solutions that will be necessary for saving the planet and humans. The team of GroGuru believes that future farming technology developed by them will take the farming sector to a completely new level.