In today's competitive business world, franchising is proving to be one of the best business expansion or growth strategies due to its advantages such as less capital, effective management, speed of growth, limited risk, increasing brand equity, etc. Several companies are opting for franchising to grow their business and expand their brand. However, growing a successful franchise requires precise strategies, management, and effective leadership.
Doug Zarkin Vice President and Chief Marketing Officer Pearle Vision is one such veteran who has been driving the Global Strategic Marketing, Visual Merchandising, Digital Platform and Product Promotion for Luxottica's global optical franchise business Pearle Vision. Doug is recognized as a global strategic retail and brand marketing expert with immense experience under his belt.
The Fascinating Career Journey
Doug always had the entrepreneurial spirit in him. When he was in graduate school in Washington DC, he was involved in launching Club Zei, the metro areas 1st NY style nightclub. At the age of 26, he co-founded one of the largest youth and entertainment agencies at that time – G-Whiz Youth and Entertainment Marketing, a partner company within the Grey Global Group. He handled some exciting projects such as— working on movie releases for Warner Bros, producing placement and entertainment marketing programs for Reebok, and writing the brand architecture for the Harry Potter franchise for Warner Bros. Consumer Products division.
Thereafter, Doug worked as founding Director of Marketing and Creative Services for the mark. brand at Avon before working on the national rollout of the then incubator brand PINK for Victoria's Secret. He joined Luxottica in 2012 and has been instrumental in the growth of its franchise business since then. Alongside having ownership for the company's strategic marketing, visual merchandising, and product promotions, Doug serves as a media spokesperson for trade and consumer press outreach. He also leads the design and development of the brand's global annual national and localized marketing plan (90+ plans) cycle.
A Full-Service Partner Platform
Pearle Vision is the premier optical brand in the Eyecare category. It provides a full-service platform for the opticians/optometrists or investors looking to build their optical businesses. Pearle Vision's premier supply chain ensures the EyeCare Center (their brick and mortar locations) is stocked with the finest assortment of frames and lenses, and a team of business partners across operations and operational services ensure the training and optimization of business.
It also provides an award-winning integrated marketing platform to drive patient traffic. "Every tool in the toolbox is truly best-in-class, led by a leadership team with decades of experience in the category. And our parent company Luxottica offers additional resources that are unmatched for the aspiring entrepreneurs," asserts Doug.
Passion for Unmatched Results
Doug believes that franchise businesses are uniquely emotional as the companies work with a team of entrepreneurs whose investment in the business goes well beyond the financials. As the stakes and the emotions on either end of the spectrum are naturally higher in a franchise business, he asserts that having a team on the frontline whose passion for results is unmatched is an incredible asset to drive sustained brand growth. "Every decision a franchise business makes must start by looking at the impact for the franchisee," he further added.
Upholding the Franchisees
Pearle Vision franchisees are independent business owners backed by the power of a global brand. With extensive training and established operating systems available, the franchise owners are provided the tools they need to build a thriving optical business. Pearle Vision provides franchisees with advantages such as—Low startup costs & turnkey retail build out footprint plan, efficient supply chain, brand recognition & reputation, and growth potential in a sustainable industry.
Catering to the Community Needs
The COVID-19 pandemic has halted the operations of many businesses. However, unlike others, Pearle Vision was lucky as eye care was deemed an essential service. It's business and the licensed owners (franchisees) had to shift towards an essential care only model. Moreover, the routine annual eye exams were put on hold to ensure the emergency care needs of the frontline health workers were prioritized.
As a community-based business, Pearle Vision catered to the community needs during the pandemic. As the services were back from essential to everyday care, the company's EyeCare centers reestablished the important connections with their communities and its business has rebounded rapidly. Due to the efforts of Pearle Vision's frontline associates and licensed owners, it has grown into a neighborhood destination that people trust with their eye care and eyewear needs.
Maintaining the Work Culture
"While leadership doesn't require physical proximity, certainly being with your team allows for a level of relationship that is unmatched," says Doug. He is proud of the way his team has adapted in these revolting times. The team leveraged video conferencing tools that have helped for tackling the run-the-business as well as maintaining the work culture. They arranged Happy Hours via video as a great way to stay connected. Moreover, the virtual work environment has migrated some communication from email to phone, which Doug believes is a positive outcome as people today are too heavily reliant on email and having the dialogue allows for the tone and understanding that often gets lost in an email.
Commitment of Care
Pearle Vision is excited to bring the next execution in its award-winning Small Moments campaign which is expected to launch back to school 2021. Continuing to showcase the commitment to caring about people behind their eyes is at the heart of Pearle Vision's consumer communication and its operational eye care excellence model. This commitment has allowed Pearle Vision to be ranked the #1 Optical Franchise and a top 15% brand on Entrepreneur Magazine's Top 500 list.
Seeking out Optimizations
Doug believes that making a difference, not as the CMO of a brand but as a person, drives him. He loves to solve problems and seek out optimizations to accelerate the trajectory of a business or brand. "I would be lying if I didn't admit that I have a competitive streak in me. It drives me professionally and it drives me in my private life," adds Doug. He further hails Tennis as his passion and accredits his family for constantly motivating him to excel.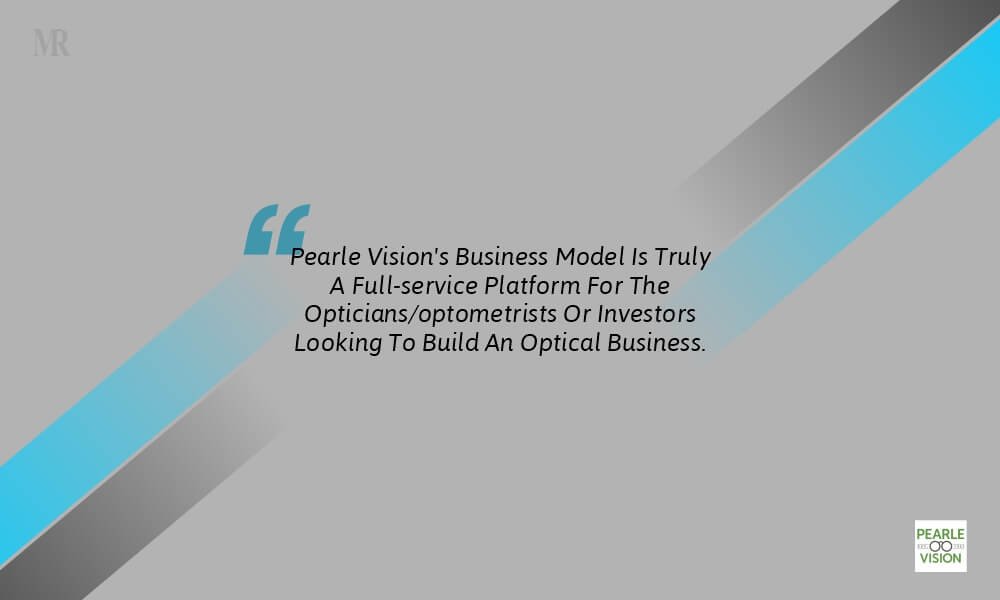 Read Full Issue: The 10 Leaders Transforming Franchise Business 2020