24×7 Live Chat Agents support is continuing its growth journey on a wide range of platforms. Though the term '24×7 Live Chat Agents Support' seems to be entered the sector recently, they have a longer history than one might think. Similarly, the landscapes on which live chat outsource agents are being utilized are also changing drastically. It's due to the increasing number of internet users and their demand for lightning fast customer support. Such radical change requires quality outcomes, therefore, the demand standards & delivery standards must remain abreast. For instance, the demand standards require solutions which facilitate swift turnaround time for the human chat agent on websites. Likewise, the industries require speed in the chat software and knowledge-based software with ultra-personalization. According to the Co-founders of DeskMoz, Nishant Singhvi and Ashish Biyani, intelligentsia must be innovated towards fostering the capacity of human live chat agents  rather than trying to replace them with ineffective solutions such as chatbots. Therefore, the Co-founding duo of DeskMoz utilizes their human workforce to offer 24×7 live chat agent support service to customers & prospects of over 200 renowned global brands.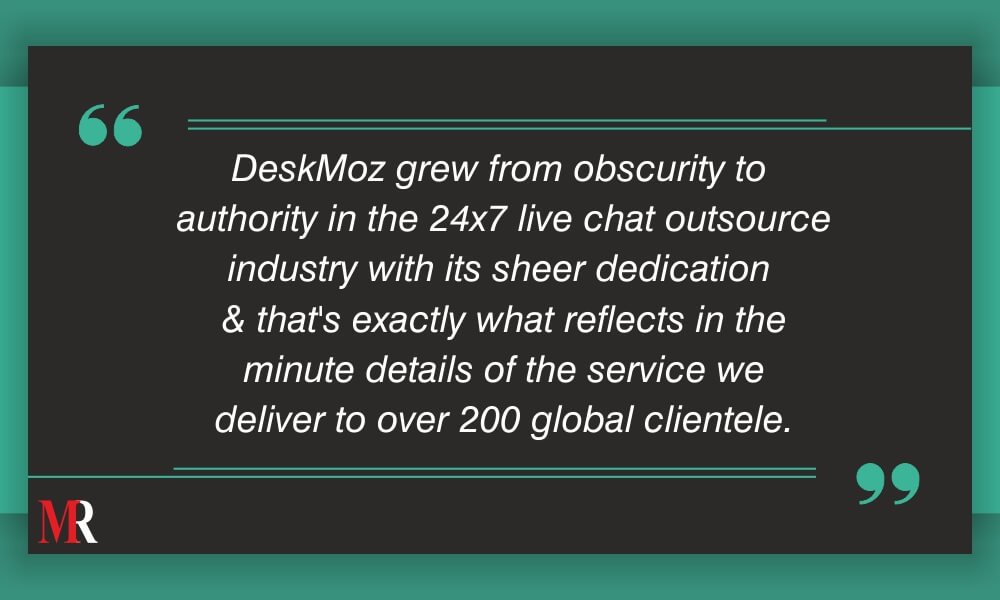 Empowering Clients in Lead Generation with 24×7 Live Chat Agent Support
Focused on a mission to relieve the pain of organizations by managing their sales leads generation and customer support roles, DeskMoz empowers clients to better focus on their product or service development.
Most of the DeskMoz clients reached DeskMoz after facing the problems of extremely low conversion ratio even after spending a considerable fortune on bringing the prospects to their website. Similarly, due to improper and unprofessional customer support, these companies were not only failing to gain new customers but were also struggling to retain the existing ones.
With its extensive years of operations in the field, DeskMoz has the capabilities to simplify & maximize such clients' sales leads generation & exemplary customer support delivery. Its team of experienced industry veterans, delivers customer support services, especially for generating sales lead. Today, the company supports numerous clients from multi-billion dollar brands to startups founded in garages. DeskMoz oversees each of its clients and customizes its solutions that will bring the best results for them.
Combating Challenges with 15 years of Trusted Service
Since its inception, DeskMoz's professional service has been assisting over 200 global businesses and enabling them to convert the visitors into paying customers & the customers into fans. Still, there are few challenges that need to be addressed like the increasing pseudo competition in the industry. Many companies are trying to replicate the solutions of leading companies like DeskMoz but fail to establish a good service outcome. The clients who approach such companies often get disappointed due to their unprofessionalism and bad customer service. With such severe experience, most of the customers end up losing faith in the live chat outsource and drop the idea of hiring chat agents.
In fact, the challenge is to regain the trust of such companies and therefore, DeskMoz has been tackling this challenge by setting an example of an ideal live chat outsource company. Today, the company is successfully serving its customers with 24×7 live chat agents support & sales leads generation service across the globe for last 15 years and since then it has been learning and upgrading its service portfolio to offer best-in-class services to the existing and new customers.
DeskMoz Leaders, Encouraging the Team with Happy and Positive Company Culture
The well-versed Co-founders—Nishant and Ashish with their team of expert individuals are further leading DeskMoz to keep up with the current and future changes in the industry. They believe that teamwork while curating intuitive solutions for customers encourage them to provide impeccable results for clients. Presently, the Co-founders keep an eye on some of the most important segment of their business which includes protecting the service delivery standards and exploring the next steps in DeskMoz's growth strategies.
When it comes to the company environment, the Co-founding duo comes up with innovative ideas to keep the employees happy. They want every team member to work with full dedication and this value can be easily derived from a peaceful and happy mind. Therefore, Nishant and Ashish always focus on giving their best to uplift employee happiness.
Sharing his thoughts on their efforts to maintain happy company culture, Nishant utters, "It's like acting as the Chief Happiness Officer for the most crucial asset of our business—the human resource."
Planning for the Future with Never Ending Improvements
The employees appreciate the efforts of the Co-founders and dedicatedly work towards fulfilling the mission and vision of DeskMoz, which certainly helps the company to develop best-graded solutions, tools, and platforms. Ashish shares, "Be it a company or a human being, improvement is a never-ending journey." Therefore, the team of DeskMoz always keeps searching for solutions that will further uplift the potential of the company. In case, they don't find any solution, the expert team of DeskMoz develops it and contributes to the industry free of cost. DeskMoz Chat Buzzer and DeskMoz Chat Translator are two examples of such exclusively developed solutions by the team of DeskMoz. Moving ahead with newly developed solutions, Nishant and Ashish are focusing on doubling their clientele base in the next 2 years and firmly establish its thought leadership profile in the industry.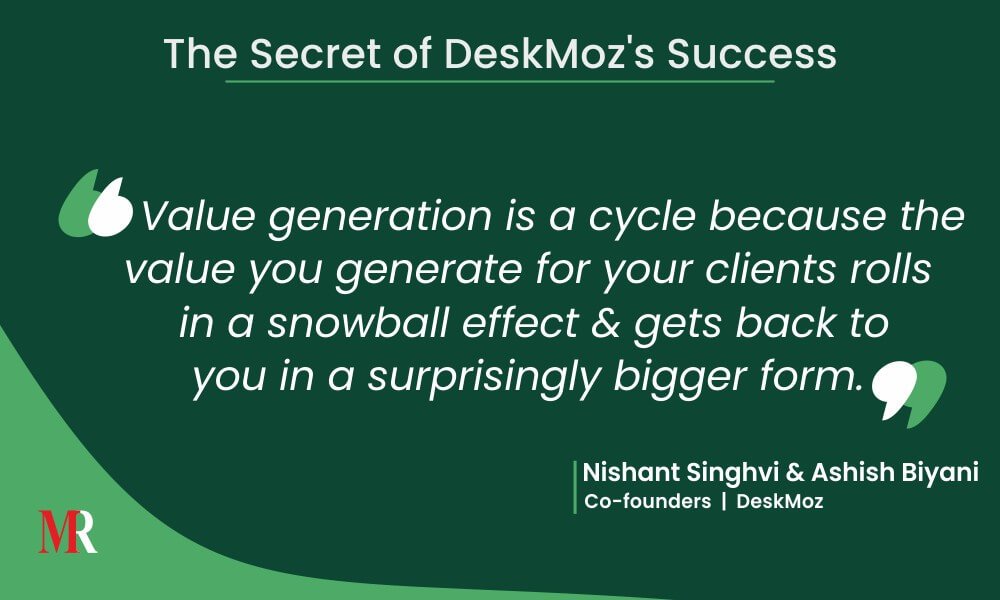 The Secret of DeskMoz's Success
Value generation is a cycle because the value you generate for your clients rolls in a snowball effect & gets back to you in a surprisingly bigger form.