The panorama of technology is constantly transforming and so are many aspects of human lives. This is especially true in the case of online dating. Today, there are millions of users on thousands of dating sites. Hence, the current elevated growth of the dating industry is no less than that of any other industry.
There are various aspects, which lead to the success of a product/service. In line with all the disciplines, it is crucial to market an offering in order to reach its target audience. A marketing communication contributes immensely to turn a product/service into a brand, and when it comes to online dating, it is all about how it is communicated.
Charly Lester, the Co-Founder and CMO of Lumen, is passionate about creating unique and engaging adverts. Charly is one of UK's most well-recognized dating industry experts as well as an award-winning entrepreneur. A highly creative-minded person, Charly teaches regular Guardian Masterclasses on various areas of marketing and entrepreneurship. She is also the Co-Founder of 'A League of Her Own' – an online learning platform and membership site for female entrepreneurs and women with a business idea.
Charly's Voyage in the Dating Industry
Initially, the CMO of Lumen worked in the dating industry when a dating blog she wrote went viral. After that, she played the role of a dating content editor at the Guardian, and later became the Global Head of Dating at 'Time Out'. Following the questions people sent to her blog, asking about recommendations for dating apps and websites, Charly came up with an idea of 'The Dating Awards'. While running international industry awards for the online and offline dating industries, she tried, tested, and reviewed every single dating app and site in the market. As a result, she started getting recognized as one of the world's leading dating industry experts. During this journey, she got to know Antoine Argouges, the Co-Founder of Lumen, who came up with an initial idea for Lumen. Loving the idea behind establishing Lumen, Charly agreed to create the app and brand with Antoine.
Lumen: Encouraging Quality Conversations and Connections
Launched in 2018 and headquartered in London, UK, Lumen is a dating app designed specifically for over 50s people. It is tailored by keeping the safety factor in mind, as over 50s are often targeted by scammers. To make the app more authentic, every single user on Lumen is photo-verified and each user has to have at least three photos uploaded. There are numerous highlighting features added to improve the dating experience, such as, one can't just say 'Hi', a user's icebreaker message is mandated to be at least 50 characters long.
The freely available app is not for under the 50s public, both the Co-Founders of Lumen are the only under 50s users using it for a reason of providing a personal touch to other users, who can give feedback directly. The communication on the app is limited to 3 new conversations a day, to encourage better conversation and avoid spamming, while 'Lumen Premium' members who choose to pay a subscription, get double the daily number of new conversations and can extend the amount of time that potential matches have to reply to their message. Having various dating apps in the market, Lumen stands apart from them in terms of its safety, security, and authenticity required for older daters.
Learning from Mistakes and Moving Ahead
Charly says that, in her previous awards business, she has made a number of mistakes and also learned a lot about running an international business, which definitely helps her working with Lumen.
Having gone through a unique journey, Charly has earned and learned most of her current business skills. She did not have any formal business training, as being a competent entrepreneur she knows what she is good at, and which things require outsourcing.
Nurturing the Newborn Dating App
Initially, the proficient CMO of Lumen was in charge of creating Lumen a 'brand', while currently she is responsible for creating the marketing strategy, and also playing the role of guardian for Lumen. With the thought of keeping the idea of Lumen alive, she makes sure every member of her team embodies the Lumen that she and Antoine have created.
From a practical perspective, she creates most of the adverts for her venture, and she really enjoys doing so. According to Charly, her favorite task was designing Lumen's iconic 'Get Your Mum off Tinder!' ads, which has earned her high praise from the numerous professional advertisers and marketers.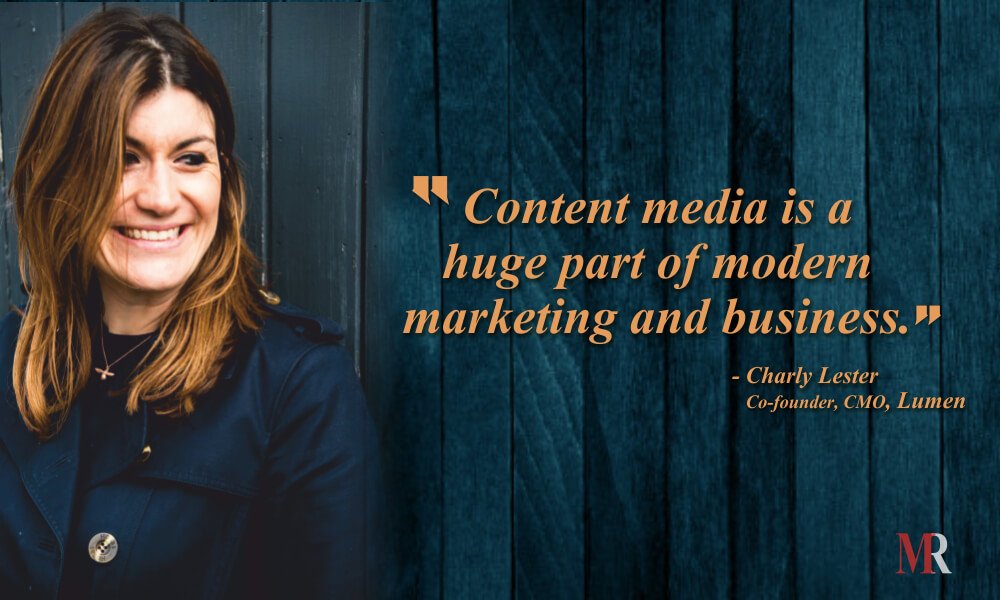 Paving the Way with the Power of Innovation
Presently being at a very early stage of its marketing campaigns, the marketing team at Lumen have introduced a mix of traditional print and out of home advertising, online ads, social media, PR, field and content marketing to the UK market. Interestingly, they have found that over 50s are particularly responsive on Twitter. Therefore, the over 50s dating app just does not target above 50s, but also markets to under 50s, who could be influencers for their single parents.