Digital transformation has revolutionized every industry, in healthcare specifically, technology is helping us live longer and lead safer, healthier, and more productive lives. This has resulted in healthcare services being taken out of the confines of the hospital walls and integrated the care delivery with user-friendly and accessible devices. With the help of devices like smartphones and tablets, patients and doctors can communicate efficiently and discuss the patient's health status. Despite such solutions, there are still many challenges faced by healthcare entities.
Today, there is a need for a dedicated framework for communication between different stakeholders and regulations. Moreover, the increasing complexity of diseases is affecting healthcare organizations to deliver better care at a lower cost. The quantum of healthcare information is increasing year-over-year by 48 percent. This data is poured from new research, electronic medical records, imaging, wearables, and epidemiological monitoring, along with all the environmental factors that affect health.
With a vision to be the industry's most-respected, future-focused, data-driven provider of end-to-end healthcare solutions, Camomile Healthcare Ventures is overcoming these aforesaid issues by expanding its horizons to offer compelling technology-based solutions to transform healthcare organizations in emerging markets.
A Boutique Healthcare Advisory Partner for Healthcare Organizations
Headquartered in India, Camomile Healthcare Ventures is one of the fastest-growing and largest healthcare strategy and implementation consultancy organizations. The company's mission is to help healthcare organizations make distinctive, lasting, and substantial improvements in their performance. To achieve this, it is providing them with the information they need to make data-driven decisions. Camomile's core values symbolize its passion and dedication towards bringing up a change that the healthcare industry needs. These core values ensure that it maintains an independent perspective, observes the highest ethical standards, and conducts business with absolute integrity. Along with these, it delivers sustainable value and excellence to its clients and advocates a caring meritocracy for patients, employees, partners, and other stakeholders.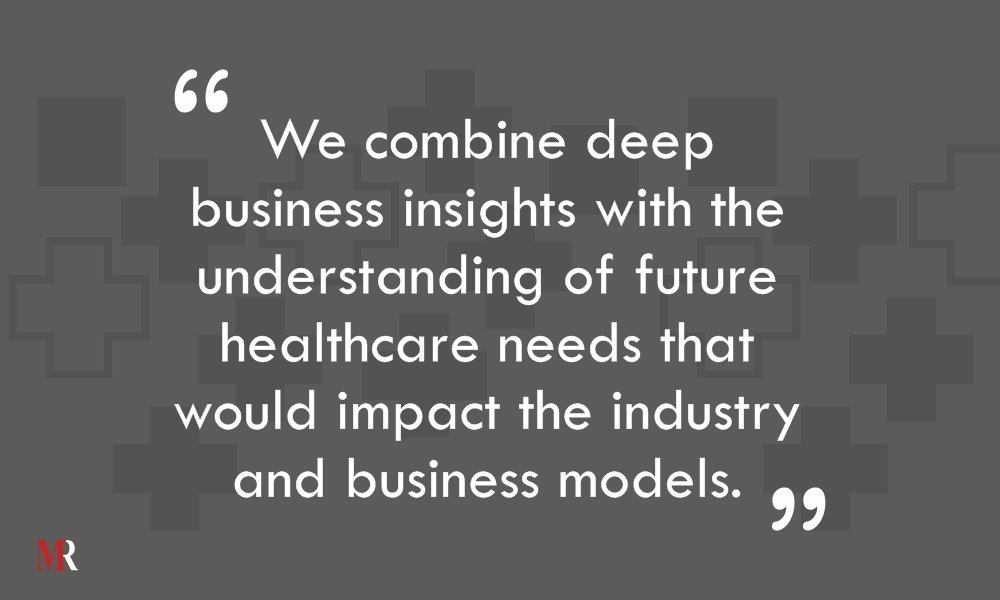 Being a boutique healthcare advisory partner, Camomile offers comprehensive solutions that are focused on three key areas: Strategic advisory and direction setting, Operational design and implementation and IT design & transformation. Since its inception, the company has been working with leading organizations across the private, public, and social sectors. These organizations include McKesson, Bank of America Merrill Lynch, Manipal Hospitals, Care Hospitals, Tata Trusts, Government of Andhra Pradesh, and others.
Camomile's Unique USP
In the healthcare industry, many organizations provide solutions similar to Camomile. To stay ahead and differentiate itself from competitors, the company focuses on its USP, which is blending its deep domain expertise with technological know-how. Specialists and teams at Camomile are conscious of all constraints in the existing hospital workflows and have tested and offered alternatives solutions that:
Require minimal training,
Reduce the turn-around time (tat) of processes,
Automate non-value added activities,
User-friendly and improve utilization, and
Are compatible to practices in India.
This uniqueness can be witnessed in the company's excellent offering of management Information System (MIS) developed for the Department of Medical Education, Government of Maharashtra, and Tata Memorial Hospital. This system enables each college to document various initiatives that are being undertaken to build their capacities to offer comprehensive cancer care. It also enables sharing of best practices, treatment protocols, and others between various institutions.
Building Future-Forward Innovative Services in the Healthcare Sector 
The influx of technologies like AI, big data, IoT, robotics, 3D printing, etc. is transforming the healthcare industry into a completely new one. Today, healthcare payers and providers are turning to information and analytics to obtain insights into how they can enhance services while lowering expenses. The Co-founder and CEO of Camomile Healthcare Ventures, Raghava Rao believes that these technologies will play a transformative role in enhancing different deliverables in the healthcare sector. Therefore, Camomile is working on several healthcare initiatives to help healthcare organizations achieve the best results. This includesHospital.AI, e-ICU services, Oncology Information System, Business incubator management, and Distraction-free driving initiative.
Improving Employee Performance via Training, Forums, Workshops & Brainstorming Sessions
As the market and technology landscape changes very quickly, it becomes extremely important to have updated information on industry, technology and its applications as well as the right skills to manage all the operations. Camomile understands the significance of having aforesaid assets and strongly believes in hiring and retaining the best talent. The company recruits talented individuals from the globally ranked Ivy League schools such as Harvard University, Imperial College London, IIM's, TISS, Manipal University and other top institutes. Moreover, Camomile's employees spend more than 50% of their time in learning new skills, gaining knowledge, and understanding problems in the industry. To further enhance their skillsets, they attend forums, workshops, and converse with industry experts more than thrice in a week, making the learning much more productive. As a result, they are able to solve the industry's problems in unique ways.
An Accomplished Leader behind the Success of Camomile Healthcare Ventures
Raghava is an accomplished leader in the global healthcare space and has held senior management and Board positions in various Indian and Multinational healthcare companies. He co-founded Camomilewith the focus on advising Healthcare CEOs and Board of Directors on transformation and value creation. Under Raghava'sleadership, the company has become one of the largest and most influential healthcare consulting companies in India and the Asian region. To further improve Camomile's capabilities, the accomplished CEO with his skilled team collects data from partners and clients around the globe, as the availability of data is extremely low in Indian healthcare. Then, they pursue deep data integration with the obtained data to bring out solutions that help transform processes.
Presently, the company is deploying its expertise to develop AI-based technology products that improve operational efficiencies and clinical outcomes. The team of Camomile is also in the process of collaborating with hospitals and other partners for feeding their AI. Their AI products utilize machine vision and cognition, image analytics—pattern recognition and search by fragments, decision management, and text analytics and NLP. Through other deep learning techniques like batch normalization, long short term memory, learning rate annealing, etc., they are delivering outputs much better than those in the market.