Compared to years back, workspaces have shrunk dramatically to about 196 square feet. This is quite shocking considering workers at most companies could expect a workspace of 325 square feet about 2 decades ago.
Also, despite the reduced workspace, workers are still expected to be much more efficient. As such, it becomes imperative to find a way about this restriction. And this is especially since it affects major sectors of the labor market including stock traders.
Thus, what better way to increase traders' efficiency than to make use of Geminos stacked monitors from Mobile Pixels? While you may begin to wonder how such stacked monitors increase the positivity of stock trading, you do not have to wonder any further. Also, seeing as multiple LCD screens may sound like the dream of teenage gamers, it becomes a tad difficult to see how they positively impact stock trading.
Here in this article, we shall be bringing to you the ways in which a stacked monitor setup helps improve trading productivity. Let's get right into them!
Stacked Monitors Help Complete Tasks Efficiently In Lesser Time
Considering the fact that workstations have reduced, the use of stacked monitors helps create a way to work more efficiently. This is because they make it possible for traders to view multiple charts and sheets simultaneously without having to switch from one window to the next.
Moreover, with stock trading companies dishing out multiple software apps that their workers must use, they become much more important. This is because even when the workspace was much larger, using these multiple apps would have been a tight fit to pull off. And now factoring in the reduced space, it makes this much more difficult.
Examples of some apps common to these companies are Office 365 and customer relationship management (CRM) platforms. And it is cumbersome to view these apps on a single monitor – whether regular-sized or widescreen. This is why putting monitors one on top of the other is the best way to make efficient use of desk space.
Such Setups Allow For Flexibility
Since there is space above your desk, this covers the restrictions created by a limiting workspace. As such, this makes it possible to have multiple monitors arranged vertically. And thus, provides a solution to the impossibility/difficulty of arranging them side-by-side.
Furthermore, this vertical arrangement can be achieved by the following:
Attaching a dual monitor setup to a single pole and making the upper one adjustable enough to be angled downward for better viewing.
Making shelves available, thereby allowing you to fix another monitor on top of the one mounted on the desktop.
Securing each stacked monitor to a wall using mounting brackets or other such equipment.
This flexibility makes it possible to stack monitors with larger screens which allows for a more immersive and wider view of the stock market. In addition, there is the added benefit of built-in cable management, fine-tuned adjustments, and flexibility. These flexible designs thus allow you to swivel not one but both monitors away and so you're not restricted to accessing them only from your desk space.
Allows For More Efficient Use Of Workstations
Keeping in mind that workstations keep shrinking in size, every square foot of space matters a lot. As such, making the most efficient use of such space is very expedient. And this is where the use of curved screen displays is effective considering it covers more viewing in lesser space.
Added to this, you can achieve a clutter-free desktop by using TYPE-C USB-supported monitors. This would help reduce cable traffic to just a multipurpose one that transmits data and power single-handedly. This then makes it possible to use extras like keyboards and a mouse without making the desktop seem so untidy since there's no need for docking stations.
Therefore, is your goal to increase the efficiency of your workstation? Try out a stacked display setup and watch the results. Also, research has proven that since traders spend less time opening and minimizing windows and tabs, their productivity increases.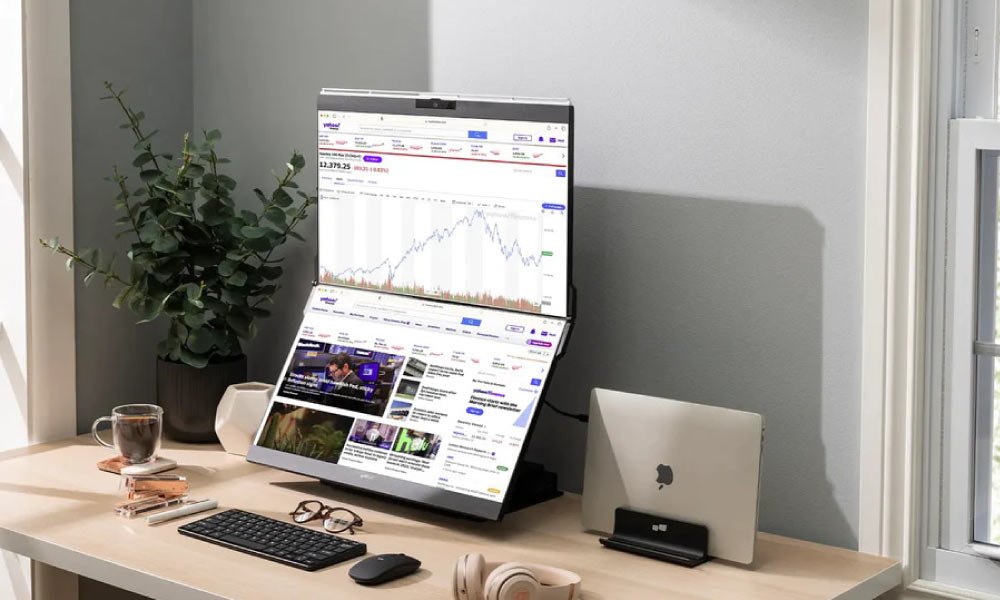 Makes It Possible For A Better Working Posture Which Optimizes Productivity
In general, physical therapy and ergonomics experts advise that when viewing an LCD screen, it is best if they are placed slightly below your line of sight. This is to make sure your eyes are level with the browser's search bar. While this may be quite possible on one monitor, it becomes quite tricky with stacked monitors as they require looking up.
However, this doesn't change the fact that such a setup allows for good posture. This is because looking at multiple views helps exercise the back and neck muscles. The only thing is that you must make sure to keep the frequently used apps on the eye-level display while the others can be on the second. This way, you can achieve minimal movement while also seldom monitoring and previews on the upper monitor.
And since it has been discovered that a good working posture increases efficiency, stock trading becomes much more productive as a result.
Final Texts
Dual or stacked monitors are already the norm at most workplaces and this is because they help improve efficiency. In fact, in a study, it was discovered to boost productivity by as much as 42%. Therefore, when it seems like you have infinite tasks to complete as a trader with a confined workspace, stacked monitors are the way to go.
Also Read: What is crypto trading